Work-Life Balance Starter Pack (Bundle)
Writer(s):

Benjamin Chee and Wayne Rée

Publisher:

Difference Engine

Published:

October 3, 2022

ISBN:

978-981-18-4559-8
Format:

Paperback

Size:

148 x 210 mm

Pages:

192pp

Retail Price:

$52.90 SGD
About the book
When a menacing multinational arrives on our shores, familiar creatures like pontianaks, manananggals, raksasis, and ba jiao guis are forced out of their jobs. Some give in and sign up for mundane corporate life – but others would rather fight than join the broken-spirited hordes of the (desk)bound.
Benjamin Chee's comics and Wayne Rée's prose intertwine in this collection to bring you familiar Asian mythology in an even more familiar setting: the realm of dead-end work, glass ceilings, and truly hellish bosses.
Why read this book?
• A refreshing take on Southeast Asian myths in a modern-day setting
• A masterful conversation between prose and comics that drives a story of an evolving Southeast Asia across generations
• Intricate comic artwork that reflects the story's imaginative world-building
• A long-awaited reflection on soul-draining work culture and bosses from hell
One Work-Life Balance Starter Pack Bundle* Contains:
• A copy of Work-Life Balance: Malevolent Managers and Folkloric Freelancers signed by the co-creators
• 1 limited edition A5 art print
• 1 limited edition "I'm a monster when I don't get my coffee and tea" mug
• 1 roll of gold-foil washi tape
• 1 4-pc die-cut bookmark set
*Items are not for sale individually
Praise for Work-Life Balance: Malevolent Managers and Folkloric Freelancers
"Think you're stuck working with monsters in your office? Rée & Chee's Work-Life Balance takes a whole new look at the possibility, using an interesting text/comics balance rarely seen."
—Paul Levitz, DC Comics President & Publisher from 2002–2009
"I read Work-Life Balance in one single sitting, then I went back and read all my favourite bits again! This is a tongue-in-cheek paean to the supernatural world of Asia and beyond, lovingly recreated in Benjamin Chee's breathtakingly intricate set pieces and character designs. The story is full of fun, fast-paced action; taking a breath now and then to ponder upon all the things we (not just momoks) have to sacrifice in pursuit of making a living."
—Meihan Boey, Author of The Formidable Miss Cassidy (Epigram Books Fiction Prize Co-Winner 2021)
"The power of juxtaposition is one of the strengths of graphic novels, and here comics are placed alongside prose to further provide a layered tale of identity, culture, and how we choose to define ourselves. Wayne Rée and Benjamin Chee have created a fine fantastical examination of the way communities reflect us, shape us, bring us together or tear us apart – something that isn't very pleasant even for creatures that can segment their bodies into two."
—Paolo Chikiamco, Editor of Alternative Alamat anthology and Co-Creator of Mythspace
"I'm convinced the creators of Work-Life Balance were drunk. It's the only explanation as to how such a fantastic tale complemented by amazingly detailed art could be conceived. And by the time I was done with it, I was drunk too."
—Elvin Ching, creator of The Woodsman
Work-Life Balance presents Internal Damnation
Want to extend your Work-Life Balance experience? Head to our supplemental text-based interactive game, Internal Damnation, and play as an intern at The Company. Internal Damnation features stunning isometric diorama illustrations and ambient music that bring this standalone story to life.
Benjamin Chee
Co-Creator
Benjamin Chee created the comics and illustrations for Work-Life Balance. He enjoys mashing up genres and themes, so after making several books with titles like Charsiew Space and Lychee Queen, he ended up asking Wayne Rée for permission to adapt the wild west short story, Mr Memphis, into a Wuxia comic… leading to them making this book together. His comics are collected in Liquid City Volume 3, Asian Monsters, and SOUND: A Comics Anthology. He is terrified of horror movies and hasn't yet fully comprehended why he is part of this book with its abundance of hantu. Find him online at www.charsiewspace.com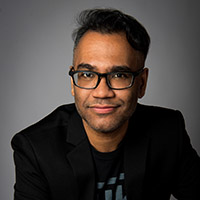 Wayne Rée
Co-Creator
Wayne Rée wrote the prose for Work-Life Balance. He's the co-creator of the comic, Worlds Apart: A Conversation About Mental Health (with Nurjannah Suhaimi), and the fan favourite audio series, Ghost Maps (with Kyle Ong). His short stories have appeared in LONTAR: The Journal of Southeast Asian Speculative Fiction, Infinite Worlds Magazine, The Epigram Books Collection of Best New Singaporean Short Stories and Fish Eats Lion Redux. He first collaborated with Benjamin Chee on Mr Memphis. His least favourite job ever was when he worked as a social media manager. His favourite job ever was when he worked as a night-shift security guard. Find him online at www.waynereewrites.com