SOUND: A Comics Anthology
Writer(s):

Various

Illustrator(s):

Various

Publisher:

Difference Engine

Published:

November 1, 2020

ISBN:

978-981-14-5160-7
Co-editor:

Budjette Tan

Co-editor:

Charis Loke

Format:

Paperback

Size:

168mm x 257mm

Pages:

288pp

Retail Price:

$27.90 SGD
About the book


Traffic. A crunchy snack. An argument. What does sound look like to you?
Difference Engine is proud to present our first comics anthology, SOUND: A Comics Anthology. Writers and illustrators from all around Southeast Asia were challenged to push the boundaries of depicting the unseen through the medium of visuals and words, while telling stories important to them. 
Guest editors Budjette Tan and Charis Loke have put together an intriguing list of stories that showcase the creativity of creators across Southeast Asia—both familiar and new names. In a broad range of genres and topics, this collection of stories is an exciting exploration of what the comics medium is capable of.
Head to this accompanying microsite to find out more about the creators' thought process!
Why read this book?
• Diverse stories created by Southeast Asian writers and illustrators inspired by and set in recognisable places around the region.
• Compelling narratives that span personal stories and universal themes selected by veteran comic book editors.
• A wide range of art styles and genres to cater to a broad range of readers' tastes. A great read for locals and anyone interested in Southeast Asia.
Creative Teams
• Folk (Paolo Chikiamco & Borg Sinaban)
• The Whispers of the Earth (Amahl S. Azwar & Nadiyah Rizki)
• Hokkien for Beginners (Nicolette Lee)
• Bonus Points (Benjamin Chee)
• Voices and Votes (Ruth Chris De Vera & Rafael Romeo Magat)
• ON : OFF (Xie Shi Min, Richard Phua, & Xiao Yan)
• Out of Sight (Jingwei Wong & Soefara Jafney)
• The Cat Who Barks (Bryan Arfiandy)
• Blabber (Bonni Rambatan)
• Softly, Sayang (Sharon Bong & Leong Yi Zhen)
• Road Trip Radio (Cathlyn Vania)
• Signals (Farid Nad)
• A Call (Nadhir Nor)
PRAISE FOR SOUND: A Comics Anthology 
"Sound as creatures slithering through doors, as the melodious voice of a street vendor, as the smudged words of a speech bubble, as a cat that woofs instead of meows. These writers have used sound in myriad ways, creating stories that make themselves heard."
—Tania De Rozario, author of And The Walls Come Crumbling Down
"SOUND is a collection of 13 stories by writers and illustrators from all over Southeast Asia. This is a much more revolutionary sentence than it seems at first glance. Because those of us who grew up in this region know the difficulty in finding representation in the media we consume, the happiness when we discover kernels of ourselves in the pages, the frustration and disappointment when we don't, or worse — when we're misrepresented instead, our culture mere costumes for others to profit from.
SOUND then is, for this Malaysian author, nothing less than an exhilarating experience. What joy, to see people who look like me and talk like me; what a thrill, to see the details in the backgrounds of not only the stories authored by fellow Malaysians, but others too, a testament to our shared SEA heritage. Here are our delights and our sorrows, our monsters and our mistakes, our families and our love. Some stories are happy, some are sad, and some are mere vignettes of lives that I wish I could see more of, but all have their own heft and weight and the art throughout is satisfyingly gorgeous. SOUND is just a small sample of the huge amount of talent here in Southeast Asia; if you have not heard us before, I hope you will hear us now."
—Hanna Alkaf, author of The Weight of Our Sky
"An impressive collection of diverse, wildly talented Southeast Asian comics talent. Each and everyone of them has stretched the format of the medium, opening readers' minds to new concepts of sound."
—Victor Fernando R. Ocampo, author of The Infinite Library and Other Stories
"It is a known fact in the industry that comics anthologies do not sell well. But they play an important role in showcasing new and not-so-new talents and bringing different writers and artists together. Kudos to Difference Engine and the editors—SOUND is the shot in the arm Southeast Asian comics need."
—CT Lim, country editor (Singapore) of the International Journal of Comic Art
"This medley of lovingly crafted comics—fantastical, social realist and confessional—have plenty more in common than their unifying theme of sound. They're also tales of loss, with characters struggling in the midst of broken families, forgotten traditions, failed belief systems and governments. They represent the collective spirit of young Southeast Asia—a generation, caught between a colourful past and an uncertain future, drawing themselves together, finding their voices."
—Ng Yi-Sheng, author of Lion City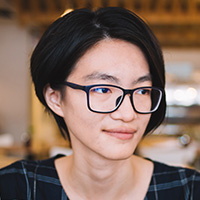 Charis Loke
Editor
Charis Loke is an illustrator and educator telling stories with images. Her work takes root in both fictional and real-world cultures, whether she's making fantasy maps or board games about Malaysian markets and kaki lima. She has an MA in Visual Sociology from Goldsmiths with an interest in drawing and mapping as arts research. She also edits and curates non-fiction comics and visuals for Southeast Asian nonprofits and publishers, including co-editing SOUND: A Comics Anthology.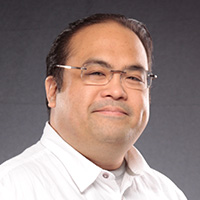 Budjette Tan
Editor
Budjette grew up in a haunted house and was told to sleep early because there were aswang flying outside his bedroom window. These stories inspired him to write the comic book TRESE, which he co-created with artist Kajo Baldisimo. TRESE will soon be adapted into a Netflix anime series.