A Drip. A Drop. A Deluge: A Period Tragicomedy
Writer(s):

Andeasyand (Nurulhuda Izyan)

Illustrator(s):

Andeasyand (Nurulhuda Izyan)

Publisher:

Difference Engine

Published:

November 1, 2021

ISBN:

978-981-18-2259-9
Format:

Paperback

Size:

148 mm x 210 mm

Pages:

40pp

Retail Price:

$15 SGD
About the book
Book Synopsis
What do newspapers, bread, cosmic changes, and the uterine lining have in common?
A Drip. A Drop. A Deluge: A Period Tragicomedy takes us on a journey through the eyes (and wombs) of six different women, from the girl who is experiencing her very first period, to the lady going through menopause, and how they – and the people around them – experience their monthly cycles.
Menstruation is an intimately personal yet shared experience that can sometimes be hard to talk about candidly, but it's time to put menstruating bodies at the heart of the conversation. Inspired by true stories from Asian women, this beautifully illustrated short comic by Andeasyand shows the lived experiences of unique, individual bodies, and brings to light the commonly undiscussed symptoms and trepidations of periods – heavy, regular, or nonexistent.
Praise for A Drip. A Drop. A Deluge: A Period Tragicomedy
The stories in A Drip. A Drop. A Deluge: A Period Tragicomedy are painfully relatable, and Andeasyand brilliantly illustrates the feelings and emotions that come with PMS, as well as overflowing and missed periods, making you feel less alone in the lifelong quest to understand your menstrual cycle – from menarche to menopause. Sprinkled with humour and educational tidbits, I highly recommend this book for menstruators of all ages.
— Ann Gee, Co-Founder of The Period Co.
A Drip, A Drop, A Deluge: A Period Tragicomedy, with its whimsical illustrations, is way overdue! Like its subject, the arrival of this sweet pink package may be greeted with either chagrin or excitement. It's a must-read and a must-gift. As the author says, it's time to park the shame of our monthly bleeds far far away. This book – honestly telling it like it is – is a great way to start.
—Audrey Chin, period graduate and author of The Ash House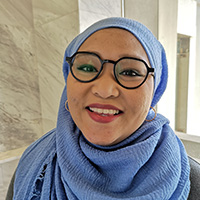 Andeasyand (Nurulhuda Izyan)
Writer & Illustrator
Andeasyand is a Nurulhuda Izyan born and raised in Singapore. In an effort to use up old name cards after her first marketing job, she discovered the world of illustration, and found ways to describe the beauty of the ordinary with doodles and scribbles. With that new power, she navigates difficult topics like menstruation, anxiety, marriage, weight, as well as silly daily musings. An acquaintance described it as risque tendencies – she calls it an olive branch to a like-minded stranger.