The Makers Club: Game On! (Book 1)
Writer(s):

Reimena Yee

Illustrator(s):

Tintin Pantoja

Publisher:

Difference Engine

Published:

June 1, 2020

ISBN:

978-981-14-3604-8
Format:

Paperback

Size:

154mm x 230mm

Pages:

120pp

Retail Price:

$16.90 SGD
About the book


Check out our Digital Launch Events, a line-up of online talks and workshops held from 14 Jun – 6 Sep 2020 that featured topics including maker culture, comics creation, climate change comics, and more!
Timid artist Nadia is in awe of her new teammate. Priya's a gamer, she's smart, and she knows how to code—so this environmental video game they're building should definitely win the top prize at the Pangolin Secondary School Science Fair, right? But Nadia and Priya soon discover that there's a lot more to making a game than coding and sprites. Will they be able to overcome their differences or will it be game over for them far too soon?
Why read this book?
• Friendship and creativity come together in The Makers Club: Game On! to inspire kids to explore STEAM topics and maker culture!
• This graphic novel's bonus content includes interviews with programmers and artists in the game industry for a closer look at the process of video game creation.
• Set in Southeast Asia, by creators from Southeast Asia.
• Nominated for the Popular Readers' Choice Awards 2021
Read an excerpt of The Makers Club: Game On!
Praise For The Makers Club
"I loved it! With a diverse cast of teens with interesting backgrounds, The Makers Club tackles real problems that young aspiring creators face at home and in school with relatable and believable characters. It's easy to read even if you do not know anything about game development, so you don't need to be a gamer, developer, or artist to enjoy it!"
— Laila Shabir, Founder & CEO of Girls Make Games
"This is such a fun comic which introduces maker culture in such a relatable way. I reckon this comic would inspire many kids to get creative! What stands out the most for me is the friendships formed in The Makers Club. The way these diverse characters support and empathise with each other even when life isn't perfect is such a heartwarming blueprint for kids to take their cues from. I wish I could have been in such a club as a kid!"
— Melanie Lee, Educator and Writer of comic book Amazing Ash & Superhero Ah Ma 
"I just read it in one sitting and really enjoyed it! I like how it combines the angst of starting secondary school, with a message of accepting friends who are different and who may have challenges going on in their lives. I also like how it shares the importance of not giving up your dreams or passions, even if other things are happening in your life. It is also great that one of the main characters is a girl who likes to code!" 
— Sarah Mounsey, Director of Libraries, Dulwich College Singapore
"Scholastic and authors like Raina Telgemeier have triumphed DC and Marvel in graphic novel sales. It's time Southeast Asian publishers like Difference Engine get a slice of the international YA market." 
— CT Lim, country editor (Singapore) of the International Journal of Comic Art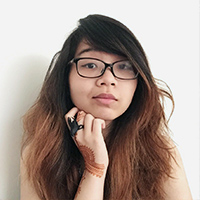 Reimena Yee
Writer
Reimena Yee is an illustrator, writer, and designer. Hailing from the dusty metropolis of Kuala Lumpur, she once was a STEM student with the wish to enter academia, but left to pursue a passion for the world and all of the histories and cultures within it, which she weaves into her art and stories.She is the author-illustrator of the gothic comics, The World in Deeper Inspection, the Eisner and McDuffie-nominated The Carpet Merchant of Konstantiniyya, and Seance Tea Party. Elsewhere, she is the co-founder of UNNAMED, a comics collective that aims to build community and resources for visual-literary creators in Southeast Asia, through workshops, panels and partnerships. She can be found at www.reimenayee.com.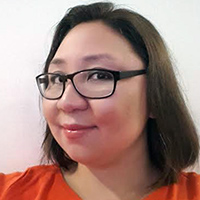 Tintin Pantoja
Illustrator
Philippine-born artist Tintin Pantoja graduated with a BFA in Cartooning and Illustration from the School of Visual Arts in NYC, having acquired a love of comics from early exposure to Hergé's Tintin, Archie, and the X-Men. She has been illustrating comics since 2007. Among her works are adaptations of Hamlet, Pride and Prejudice, and the educational middle-grade Manga Math series. Most recently, she created Unplugged and Unpopular together with writer Mat Heagerty. She divides her time in Manila between making comics, caring for her four dogs, and scouting the web for fountain pens. You can see more of her work at www.tintinpantoja.com.
Nadia Tan
Artistic and geeky, Nadia likes drawing, making zines, and eating pineapple tarts. She can usually be found in her bedroom reading, making art, or daydreaming. She loves her family and wants to do well in school to make them proud. She is the self-proclaimed Banyan High series' number one fan.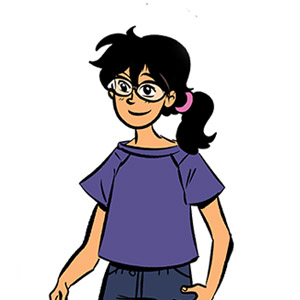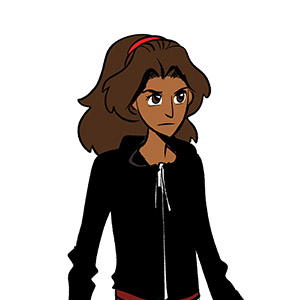 Priya Kumar
A loner, Priya spends most of her time in her room playing video games to escape her parents and the rest of the world. She is seldom seen without her noisecancelling headphones and hoodie. Smart, focused and driven, Priya always wants to win. She's a new Banyan High series fan.
Aqilah Zuraidi
Creative with a flair for fashion, Aqilah loves designing and crafting things. She's a fiercely loyal friend and is determined to be an independent young woman. She is always battling Yong Qiang for second biggest fan of the Banyan High series.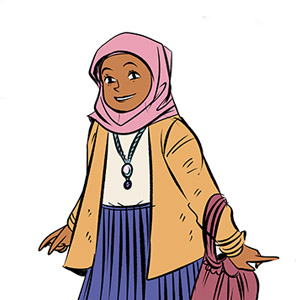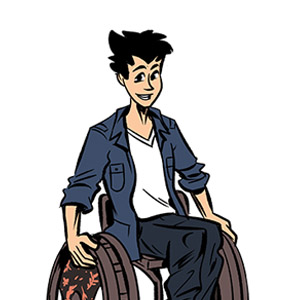 Fu Yong Qiang
Everyone's best friend, Yong Qiang never fails to light up every room he enters. Sporty and resilient, he always finds a way to make things interesting and fun. His love of the Banyan High series is second only to Nadia's.
Tilly Tay
Tilly is a maker, tinkerer, and loves working as a school librarian. She is devoted to her students and her cat, and is never too far away from her next cup of coffee. She's very interested in the series she sees her students reading. It's called Banyan High.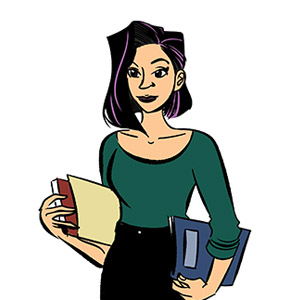 Official Comic Book Trailer for The Makers Club: Game On!