We are proud to announce three original graphic novels that will be published this year, together with brand new projects planned for 2022–2023.
Created by Southeast Asian writers and illustrators, DE's upcoming line-up features our first picture book-comic, and young adult tale. With our titles covering a diverse range of topics, there will be a book for readers of every age!
Coming Up in 2021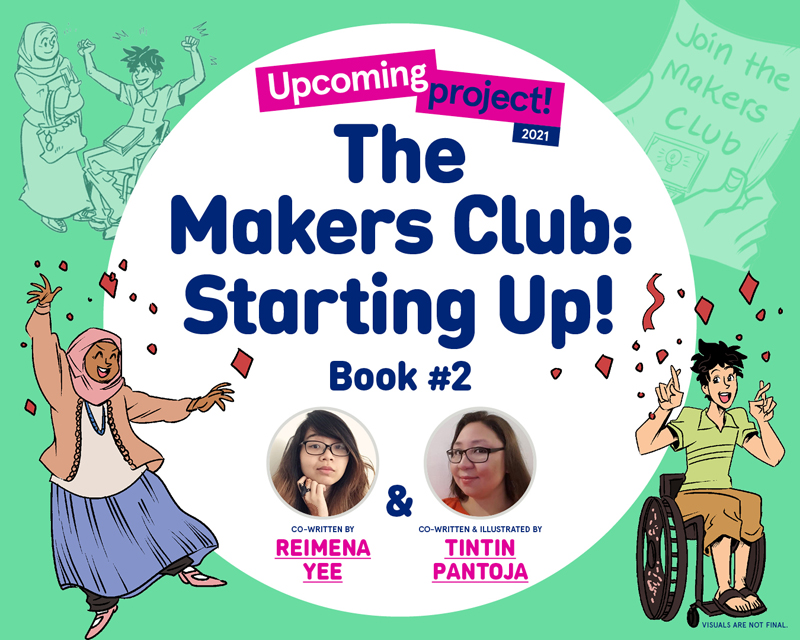 The Makers Club: Starting Up!
Readership: 9-14 years old
Category: Middle Grade Fiction
Publication: June 2021
Synopsis:
Childhood friends Aqilah and Yong Qiang have lost touch over the years. When they are unexpectedly reunited in Pangolin Secondary School, they discover that things are very different, and life seems a lot more uncertain than it once was. Together, will they be able to convince everyone and, more importantly, themselves that they're ready for independence?
The Makers Club returns in June 2021 with Book #2 of the series. Co-written by Reimena Yee and Tintin Pantoja and illustrated by Tintin Pantoja, The Makers Club: Starting Up! is a comic about friendship, entrepreneurship, and design thinking. Writer Reimena Yee expressed: "I hope readers will enjoy meeting Yong Qiang and Aqilah, and be inspired to pursue their own dreams, whatever they may be."
Illustrator Tintin Pantoja added: "Creativity takes a lot of work and bravery. This is the reason I love these kids – they very honestly reflect the struggles of people trying to do great things."
Praise for The Makers Club: Game On! (Book #1)
"I loved it! With a diverse cast of teens with interesting backgrounds, The Makers Club
tackles real problems that young aspiring creators face at home and in school with relatable and believable characters."
– Laila Shabir, Founder & CEO of Girls Make Games
Book #1 is available in print and ebook format here.
---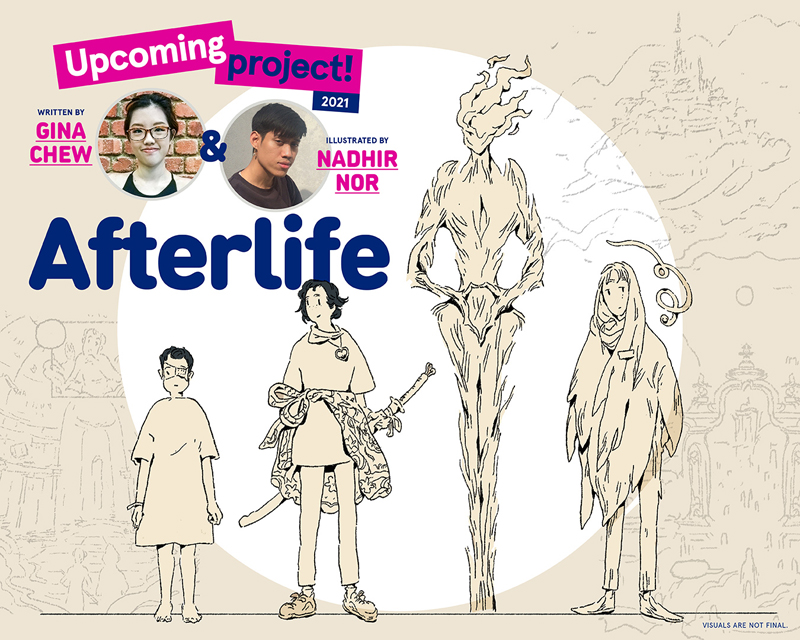 Afterlife
Readership: Young Adult
Category: Fantasy
Publication: August 2021
Synopsis:
Kyra's younger brother lays on his deathbed and she's stricken with grief. Spirit Keeper Eric was just there to do his job and bring a Soul into the Afterlife. So why do they feel an inexplicable connection when they meet?
In this great expanse where what's lost is found, fate, memories, and love intertwine as Kyra and Eric embark on a daring rescue mission to save a little boy from Death's clutches. Afterlife is an epic Southeast Asian-inspired young adult fantasy graphic novel about one girl's sacrifice as she fights to save what she loves, without losing herself in the midst of it all…
"I have always been fascinated by stories that compelled its characters to be pushed to the limits," said first-time comics writer Gina Chew who sought to examine themes of love and sacrifice.
For illustrator Nadhir Nor, the story allowed him to explore his concept of death and the afterlife. "As scary as it can be to consider us having to face death, it's way more devastating to think of the people we love facing it. The story lets readers ponder that, while having a little bit of fun going through the otherworldly adventures Gina has written."
**Update 06 July 2021: Due to unforeseen delays, the book will be released in Mar 2022 instead. Stay tuned!
---
Marvellous Mammals: Southeast Asian Animals in ABC
Readership: 7-12 years old
Category: Picture Book-Comic
Publication: September 2021
Synopsis:
Hello fellow naturalist!
We know that dogs bark, cats meow, and cows moo. But do you know dholes whistle "whee-whee", wild boars grunt "grrt grrt", and siamangs call out "ooh-wow-wow"?
In the humid nature reserves of Singapore city, high up the mountain trees of New Guinea, and in the tropical rivers of Ayeryarwady, a multitude of mammals live their unseen lives. They await a bold explorer to learn their secrets. Could that explorer be you?
In this beautiful illustrated comic book for children and adults alike, follow wildlife ecologist Debby Ng and illustrator Darel Seow as they guide you to discover the lesser-known creatures of Southeast Asia!
Writer Debby Ng explained why she's writing this book: "Six years ago, I became an aunt to a young girl who would grow up with less forests than I had. I wanted her to know that our forests are special and full of incredible wildlife waiting to be discovered. This book is for her, and all the people who live in cities, on the edge of grand forests. May you find a familiar neighbour."
Illustrator and nature-lover Darel Seow agreed: "I hope this book starts readers on an adventure of learning about and how to live alongside our unique Southeast-Asian wildlife!"
---
More to look forward to in 2022 & 2023!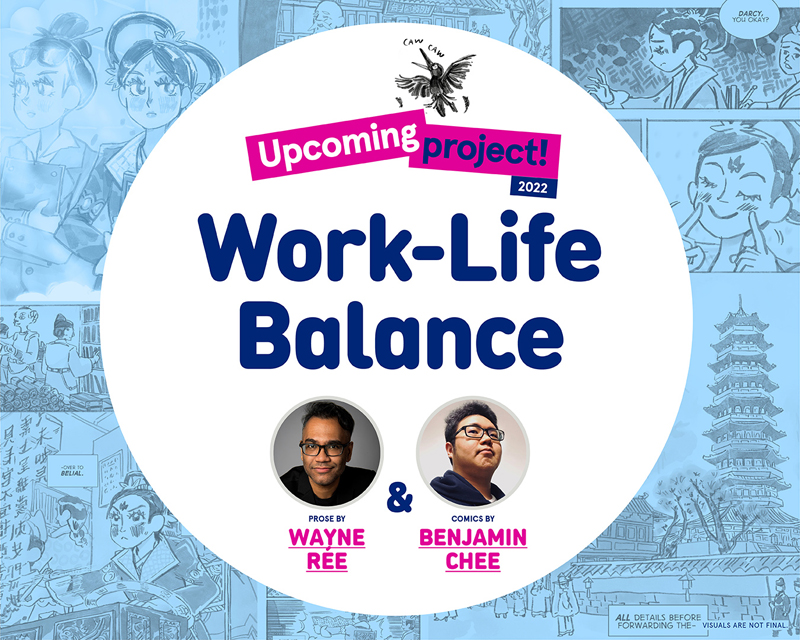 Work-Life Balance
Readership: Adult
Category: Fiction
Publication: 2022
Synopsis:
Dead-end jobs, hellish clients, glass ceilings – it seems like even in the underworld, creatures like the pontianak and the penanggalan aren't spared from the drudgery of office life. How do the supernatural cope with the super mundane daily grind?
Prose and comics intertwine in this thought-provoking, (forked) tongue-in-cheek collection to bring you familiar Southeast Asian mythology in an even more familiar setting: the realm of the deskbound.
Presenting an entertaining take on corporate inanity and gainful employment, Work-Life Balance features prose written by Wayne Rée and comics illustrated by Benjamin Chee. "With this project, we wanted to explore what it feels like to work in the corporate world, how much the supernatural is a part of Southeast Asian culture, and just this sense of duality that I think we all struggle with on some level," said Wayne Rée.
Added illustrator Benjamin Chee: "What it'll have and what I'm excited to draw: What if your colleague is a literal monster? Boardroom drama…with demons? Terrible, terrible stuff!"
---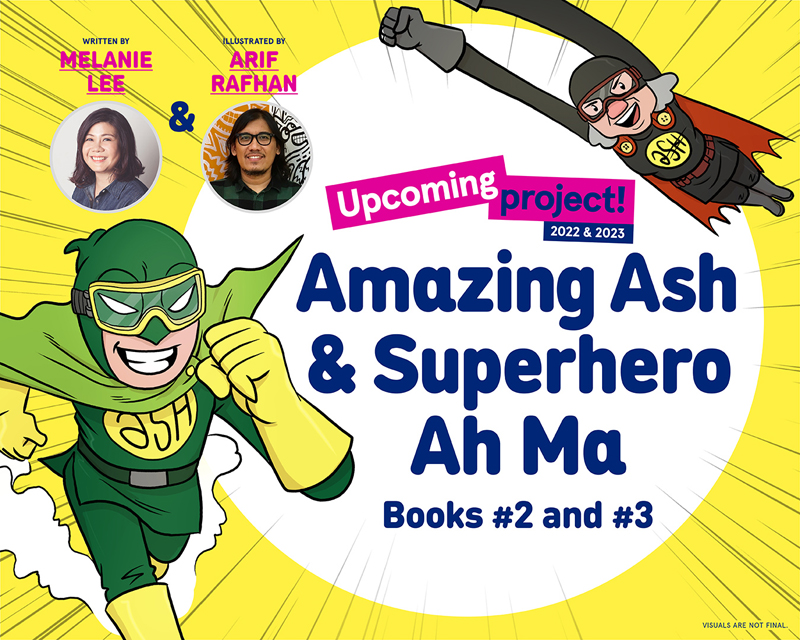 Amazing Ash & Superhero Ah Ma (Books #2 and #3)
Readership: 7-12 years old
Category: Middle Grade Fiction
Publication: 2022 & 2023
Synopsis:
The adventures of Amazing Ash & Superhero Ah Ma continue! As Ash juggles school and being a superhero, and Ah Ma seems to get increasingly more forgetful, how will Team ASH cope with new nemeses and strange developments happening in town? Join Ash, Ah Ma, and the rest of Team ASH as they try to save the neighbourhood and at the same time, face the changes that come with growing up and growing old.
The creative team of writer Melanie Lee and illustrator Arif Rafhan have signed on for a second and third installation of Amazing Ash & Superhero Ah Ma. "There are going to be even more thrills and spills with new challenges, along with plenty of heart in the relationships. We hope to balance the reality of Ah Ma's dementia with the hopefulness of unconditional family love and community support in the next two books," said the creators.
Praise for Amazing Ash & Superhero Ah Ma (Book #1)
"The storyline is unique and captured my attention as a reader. I like that it portrays persons with dementia (PWD) in a positive light and seeing them as more than just PWD."
– Tan Pei Qi, Adila Yusof and Nicodemus Ching, Social Workers of AWWA Health and Senior Care
Book #1 is available in print and ebook format here.
---
Creators' Bios
Reimena Yee is an illustrator, writer, and designer hailing from the dusty metropolis of Kuala Lumpur. She is the author-illustrator of the gothic comic The World in Deeper Inspection, the Eisner and McDuffie-nominated The Carpet Merchant of Konstantiniyya, and Séance Tea Party.
Tintin Pantoja is a Philippine-born artist who graduated with a BFA in Cartooning and Illustration from the School of Visual Arts in NYC. She has been illustrating comics since 2007. Among her works are adaptations of Hamlet, Pride and Prejudice, and the educational middle-grade Manga Math series.
Gina Chew is a Singaporean writer most acclaimed for her debut play Permanence. An English Literature graduate from the National University of Singapore, she brings her interest in theatre and its myriad of stories-come-to-life to other mediums including film, television and online media such as videos and animated stories.
Nadhir Nor is a Malaysian artist based in Selangor with an interest in all things otherworldly. Believing the magic of finding the otherworldly in the mundane, and vice versa, makes for a story worth telling, he uses his works to explore the relationships between mythology and ancient cultures with modern society.
Debby Ng is a wildlife disease ecologist, photojournalist, and National Geographic Explorer. She is also the founder of two volunteer organisations: PulauHantu.sg, which aims to conserve Singapore's coral reefs, and HimalayanMuttProject.org, which focuses on emerging infectious diseases capacity-building in Himalayan communities. She is currently pursuing her PhD at the NUS Centre for Nature-based Climate Solutions.
Darel Seow is a visual storyteller who illustrates the tales of the natural world through his unique brand of wry wit and whimsy. An illustration graduate from Central Saint Martins College of Art and Design (UK), he believes in the draw of storytelling as a means of engagement, creating experiences that simultaneously excite and educate. He has previously worked with the National Museum of Singapore, the Asian Civilisation Museum, and the British Museum.
Wayne Rée is the author of the short story collection, Tales From a Tiny Room. He's contributed to publications such as Infinite Worlds Magazine, LONTAR, and Pulp Toast. He's also the co-creator of the comic, Mr Memphis, and the narrative podcast, Ghost Maps.
Benjamin Chee is a game artist by day, and a comic creator by night. He is the creator of Charsiew Space, a story about smugglers in spaceships cooking forbidden pork. He has also published 6 other titles, and has contributed to multiple anthologies including LONTAR Issue #5, Liquid City Vol. 3, Asian Monsters, and SOUND: A Comics Anthology. 
Melanie Lee is the author of the picture book series The Adventures of Squirky the Alien, which picked up the Crystal Kite Award (Middle East/India/Asia division) in 2016. She is also an Associate Faculty at the Singapore University of Social Sciences developing and teaching media writing courses.
Arif Rafhan is a comic and pre-production artist. His work has been published in more than 10 books to date by MPH, Buku Fixi, Maple Comics, and Marshall Cavendish. He also works with various production companies creating pre-production visuals such as concept art, character designs, environment designs, and storyboards.
---
**Titles and illustrations are not final.
For updates on these titles and more, sign up for our e-newsletter.
If you have a story you'd like to tell, head here to find out more details on submitting your pitch or manuscript to us. We'd love to hear from you!