Singaporean creators Wayne Rée and Nurjannah Suhaimi look to encourage people to start more conversations about mental health with their latest comic book, Worlds Apart: A Conversation About Mental Health, which will be published on 9 May 2022.
The story takes cues from popular culture and comic book genres such as sci-fi and superheroes, confronting the myths and misconceptions of mental health issues in a relatable and digestible medium. Rée and Nurjannah hope that readers will be inspired to start open and frank dialogue with others about the realities of mental health.
Mental health is a topic that has gained greater prominence over the last decade, and even more so since the pandemic. But despite increased awareness, these conversations can be plagued with misconceptions—especially for those who are new to the topic.
According to the Parliamentary Secretary for the Ministry of Health in 2021, about 49,800 Singapore residents received treatment for mental health issues every year on average from 2016 to 2019. This means that a sizeable portion of the population may face challenges relating to their mental health, or as a caregiver to someone with a mental health condition.
Since not everyone facing mental health difficulties seek professional care, there may be many more who need help. For those with mental health conditions or their caregivers, one obstacle they may face is the stigma of opening up about their experiences. Worlds Apart: A Conversation About Mental Health aims to address this and provide a stepping stone to share about their experiences.
Writer Wayne Rée explains that the story was born out of his experiences with people who live with mental health issues, and those who are, in contrast, not as familiar with the difficulties that mental health conditions can pose.
"The idea for the story took shape as I watched my partner navigate her existing mental health condition, while taking on the role of her mother's primary caregiver. Her advocacy for greater awareness of mental health moved me to do the same, in my own way," said Rée.
While writing the comic, Rée researched the more common mental health conditions in Singapore. To understand what people who live with those conditions go through, he spoke with people who have tried to talk about mental health with their friends, family, or colleagues.
"It's their stories and perspective that form the heart of this comic," he said. "This book is not about treatment. It is about broaching the topic of mental health, which is also a heavy responsibility that requires and deserves a great level of emotional honesty."
Illustrator of the comic, Nurjannah Suhaimi, said: "The more conversations we can have about mental health, the less taboo it becomes, and the less lonely we feel, because at least, we know that we're not the only one's going through this mental health journey.
"While working on this project, I myself learned that none of us are really 'perfect'; we all have a struggle that we're going through. By understanding this, it creates more empathy in the community. We can help pick each other up, as we can recognise the signs when someone is not doing too well."
Worlds Apart: A Conversation About Mental Health has received support and praise from Singapore Association for Mental Health (SAMH). A spokesperson from SAMH said: "This comic delivers a significant message – breaking the silence and stigma around mental health cannot be left solely to the professionals. Everyone can play a significant part in normalising it. Every conversation matters and we need to overcome it as a society."
This comic book will be the second issue of DE Shorts, a new imprint that publishes self-contained stories on a wide range of social issues.
Felicia Low-Jimenez, Publisher of Difference Engine, said: "Conversations about mental health can create a more open, just, and caring world. We hope that Worlds Apart: A Conversation About Mental Health reminds people living with mental health conditions that they are not alone. We would also like the comic to encourage those who might be unfamiliar with these challenges better understand how they can reach out and help. To facilitate more conversations, we've included a specially designed postcard and envelope for anyone who wants to drop a note to someone and say, 'How are you, really?'"
Worlds Apart: A Conversation About Mental Health will be available on the Difference Engine Online Store from 9 May 2022, and ships locally and internationally. The book, with the postcard and envelope set, retails at $15 SGD without GST.
Each copy of Worlds Apart: A Conversation About Mental Health comes with a postcard and envelope set that readers can use to reach out to those they care for.
Purchase the book online at bit.ly/WorldsApartMH.
For enquiries about the book, contact readcomics@differenceengine.sg.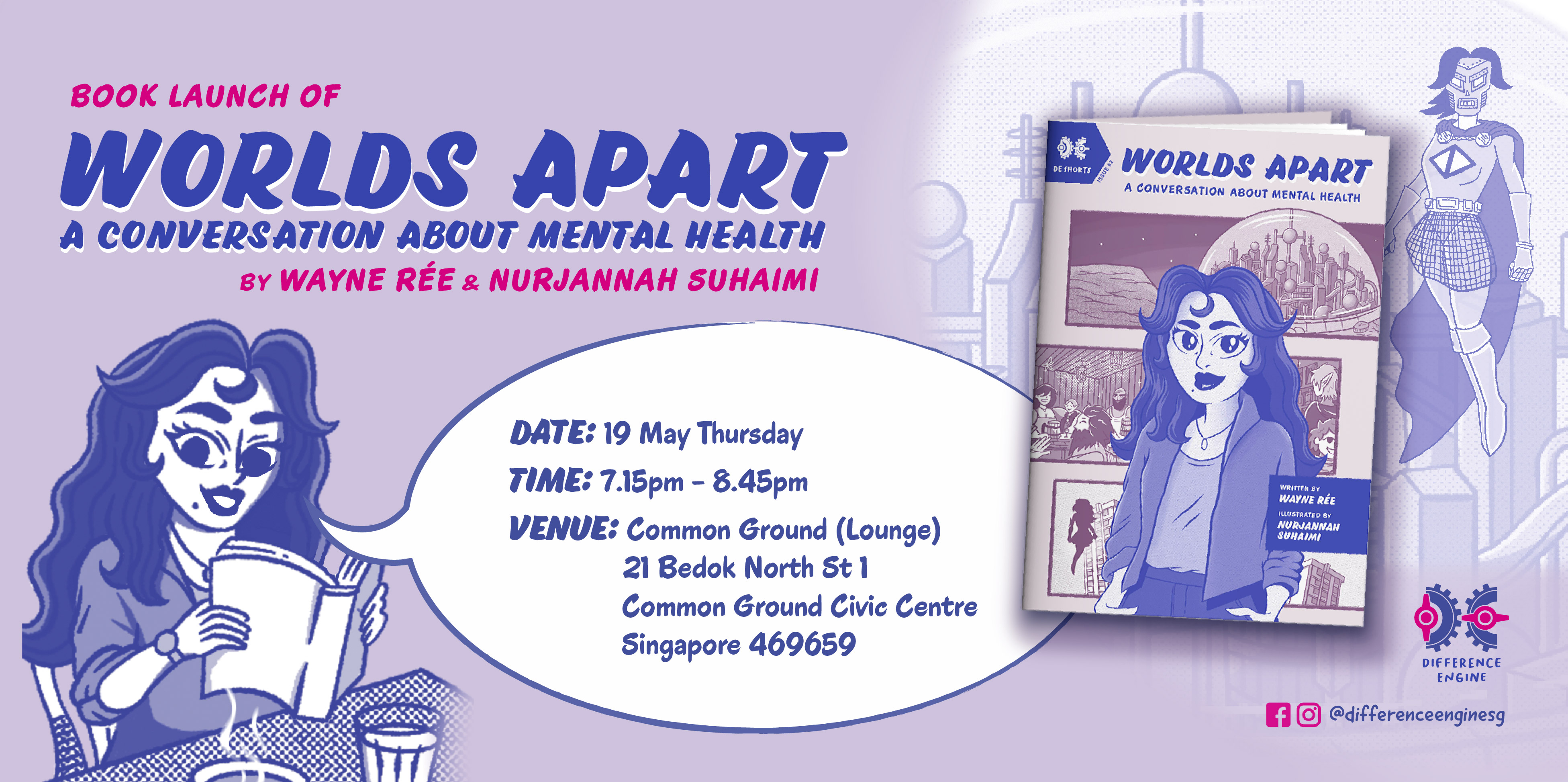 JOIN US AT THE BOOK LAUNCH OF WORLDS APART: A CONVERSATION ABOUT MENTAL HEALTH
Join writer Wayne Rée and illustrator Nurjannah Suhaimi as they share their experiences and inspirations creating this comic book, and how the book can be a tool to encourage people to have more conversations about mental health issues.
We're also pleased to welcome guest speaker Deborah Chen from Singapore Association for Mental Health, who will share more about mental health resources, and how to facilitate a culture of openness and care.
Difference Engine is partnering with Singapore Association for Mental Health (SAMH) to raise funds for mental health services. We will match all ticketing proceeds from this event (after a 5% cut per ticket from Peatix), and donate these funds to the Singapore Association for Mental Health.
Your support will enable SAMH to provide rehabilitative, outreach, and creative services and programmes to persons with mental health issues, and aid their recovery and reintegration back into the community. It will also contribute to raising public awareness about mental well-being and resilience, and promote acceptance and respect for persons who face mental health difficulties. To learn more about Singapore Association for Mental Health, head to this website:
www.samhealth.org.sg.
Date: 19th May 2022 (Thursday)
Time: 7:15pm – 8:45pm
Venue: Common Ground, Lounge
21 Bedok North Street 1, Common Ground Civic Centre
Singapore 469659
Register for the event at worldsapartmh.peatix.com.