The past couple of months have been ash-citing for superheroes Amazing Ash and Superhero Ah Ma! After their adventure in the first instalment of Amazing Ash & Superhero Ah Ma, the dynamic duo have officially taken up the mantle as their community's friendly neighbourhood superheroes. However, to ensure that Ash and Ah Ma can continue doing good includes caring not just for their community, but also looking out for Ah Ma as her dementia worsens. Ash, Ah Ma, Grace, Zoe, and Buddy find themselves on a new series of unforgettable adventures around Singapore – this time to learn more about dementia and caring for elderly loved ones!
Follow the group on their unforgettable adventures by reading the bite-sized comics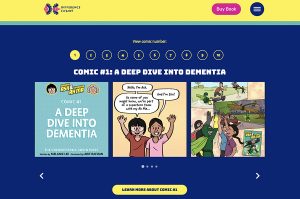 All ten bite-sized comics can be viewed and downloaded for free on the microsite!
Similar to the original graphic novel, these unforgettable adventures interweave the heartfelt with the light-hearted, and the factual with the emotional. This collection of ten fully coloured bite-sized comics can be viewed and downloaded for free on the mini-series' official microsite, where the group find themselves exploring the newest design features and developments that help people with dementia in Singapore.
Readers of all ages are invited to follow the characters alongside their journey, regardless of prior knowledge of dementia. These comics can serve as educational resources on the condition – the curious will be introduced to the basics of dementia, learn simple ways to make loved ones with dementia feel more comfortable and included, and discover places to visit with loved ones.
Each comic comes with additional information and discussion questions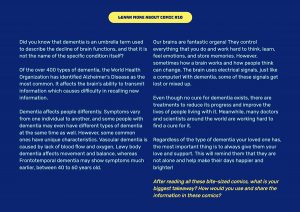 These excerpts include clarification on concepts and terms used in the comic, and may include additional information and external resources that help young readers better understand key concepts and topics.
To further expand on the topics and concepts mentioned, each comic comes with its own informational excerpt, and a couple of discussion questions. Created for children to learn more about dementia, people with dementia, and their caregivers, these sections are meant to further inspire interest and conversation on each topic. By following Ash and Ah Ma during their more candid and vulnerable moments, younger visitors – who might not have much exposure to the concept of ageing and dementia – are given the opportunity to glimpse a perspective they may not otherwise be privy to.
Creators used reputable sources from dementia organisations and government-linked sources in their research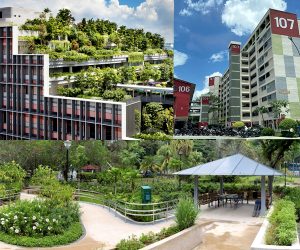 These are some of the image references used by Melanie and Arif to create the bite-sized comics. (Top-left: Mid-Rise Urban Living by Chris Johnson; bottom: GreatNewPlaces)
To prepare for Ash and Ah Ma's unforgettable adventures, creators of Amazing Ash & Superhero Ah Ma, Melanie Lee and Arif Rafhan, embarked on their own journey to better understand the condition, and what Singapore is currently doing to help build conducive spaces for people with dementia.
During their research, both creators read up on dementia to better familiarise themselves with the symptoms and experiences of those living with it. To create as immersive and accurate an experience as possible, Melanie and Arif used information vetted by local dementia and government organisations, and official reference photos for the locations mentioned.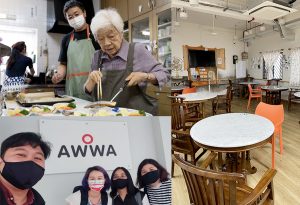 Here are some photos Melanie took during her day trip to AWWA's Yishun Dementia Day Care Centre.
Melanie even took a day trip – with Felicia and Sophia from the Difference Engine team – to AWWA's Yishun Dementia Day Care Centre during her research for "Comic #9: Dementia Day Care"! Nicodemus from AWWA graciously gave everyone a tour of the location, and explained why certain activities and fixtures were included in the centre for the benefit of the clients. It was ah-ma-zing!
Put your knowledge to the test by helping Ah Ma build her cosy corner
But the journey doesn't end after viewing all ten bite-sized comics! After learning about dementia, children can apply the knowledge they have gained from the comics into one of the multiple activities available.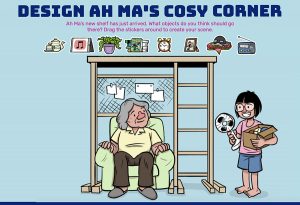 What items will you choose to put in Ah Ma's cosy corner?
Younger visitors can help design a cosy corner for Ah Ma either digitally on the microsite, or by downloading the activity sheet from the digital goodies pack below. Inspired by Hackcare.sg, the cosy corner is a modular and DIY set that creates an anchor space for commonly-used and comfort items that a person with dementia may need.
Children can infer Ah Ma's needs from the ten bite-sized comics above, as well as her adventures in Amazing Ash & Superhero Ah Ma, and build a cosy corner that is both useful and conducive for her. There is no correct answer – empathise, be creative, and have fun!
Psst, don't forget to share your children's or students' iterations of their cosy corner on social media by using either the #superheroahma or #ahmacosycorner hashtags!
Continue on your learning journey by downloading the free digital goodies pack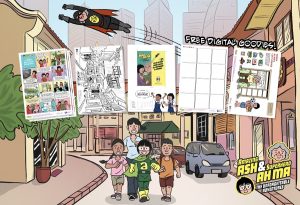 Download and print these downloadables to continue on your learning journey!
Besides the interactive on-site elements, all visitors to the microsite get free access to a digital pack filled with a host of goodies. The pack includes all ten bite-sized comics for easy viewing whenever and wherever, a Draw Your Own Comic! template for the budding creative, a printable version of Ah Ma's Cosy Corner among other Amazing Ash & Superhero Ah Ma themed activities and freebies. The super-fun has only just begun!
Stay updated on Ash and Ah Ma's adventures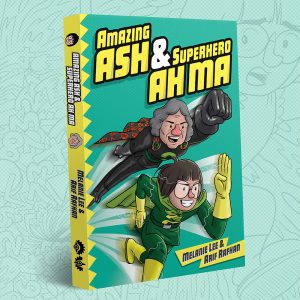 The anticipated next instalment of Amazing Ash & Superhero Ah Ma is set to be released in 2022. In the meantime, catch up on the adventure thus far here!
If you would like to know more about Amazing Ash & Superhero Ah Ma or the microsite, or would like to request a workshop on writing, storytelling, or comic creation from the creators, you can reach us at readcomics@differenceengine.sg.