Before 2019, the Difference Engine team had no inkling that virtual book launches would become so popular. Fast forward to 2020, with three successful online book launches and events later, we are here to spill the tea on how you can host your own successful virtual event too.
The COVID-19 pandemic has changed the way many companies do their businesses, and the book industry is not spared. Singapore began its circuit breaker measures on 7 April 2020, which meant that our team had to rack our brains to launch the first title in our line up, The Makers Club: Game On! 
Written by Reimena Yee and illustrated by Tintin Pantoja, The Makers Club: Game On! is the first book in a new graphic novel series that aims to inspire kids to explore STEAM topics and maker culture. 
We decided to launch a series of free digital talks and workshops that ran from June till September 2020 – with the support of the Digital Presentation Grant from the National Arts Council – to generate interest not only in the book, but also maker culture and comics as a medium. The creators of the graphic novel, Reimena Yee and Tintin Pantoja, led the talks and workshops alongside other creators and experts.
It was the first time any of us had organised a virtual event and we were apprehensive at first. But after a few sessions, we started to get the hang of it. We've decided to share our experience with you and we hope you'll be able to pick up some useful tips from our experience to create your own virtual book event!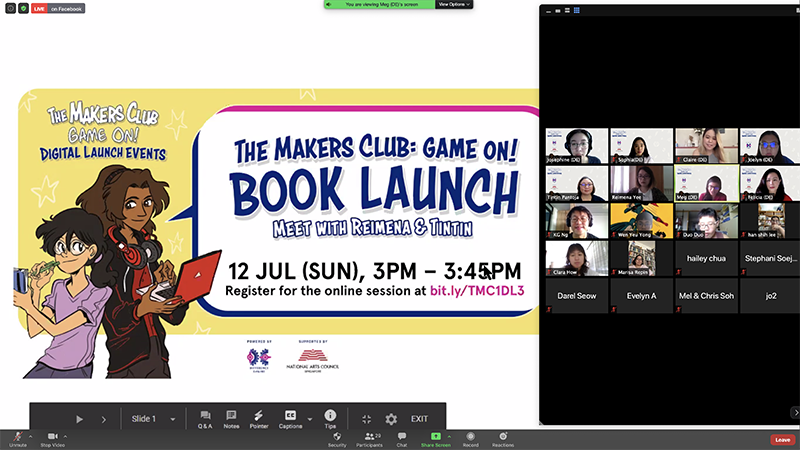 The digital launch of The Makers Club: Game On!
Decide on and adapt to the tech you need
There are many different video conferencing platforms these days, but we decided to go with Zoom due to its increasing popularity and audience's familiarity with the platform, along with Facebook Live. Since we were new to Zoom, the team spent a few sessions testing out the features, even holding fun internal presentations like "18th Century Beachwear" and inviting fellow colleagues from our sister company to sit in. 
Besides getting familiar with the tech, we also needed to create a smooth, welcoming experience for all participants. This included anticipating necessary house rules, as well as digital settings. Some questions we needed to answer included: 
Should participants be muted when they first enter?

Should we allow everyone to chat with each other privately?

How do we ensure the event is secure and keep unwelcome "Zoom bombers" out? 

How do we encourage people to turn on their videos so that the atmosphere is more welcoming?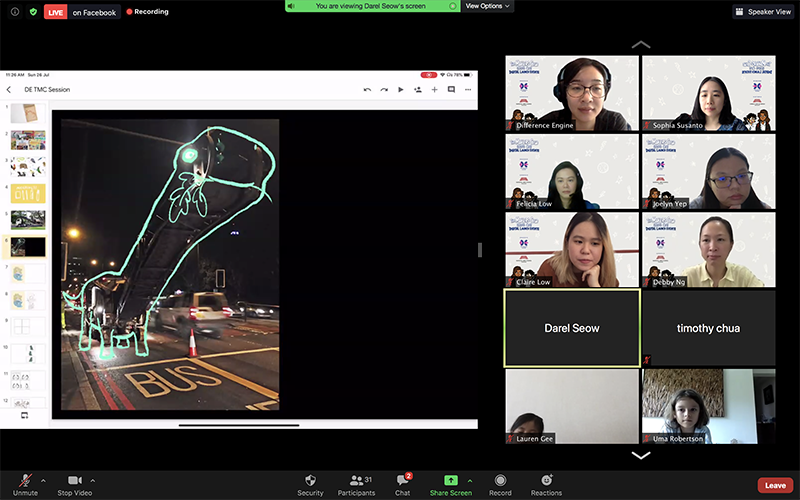 The screen-sharing options on Zoom allowed Darel to share his drawing process in real time. 
Promote the event 
Once that was done, we set up the Zoom invite and Facebook event page, promoted it on social media, and reached out to guests who would be interested. A reminder email was also scheduled to be sent one day before the event. Our creatives also participated in the promotions either by sharing the event on their social media or doing up collaterals! 
Plan the talk and workshop content  
One of the most fun parts of planning the virtual events was working together with the creators and coming up with the talk content and activities to engage participants. This could be in the form of reading, activity, and Q&A session. In one of our events, "Let's Frame it Another Way!", illustrator Tintin Pantoja decided to show a live demo of how to translate a comics script into visuals! You can view the recording of the live event at this link. 
Other materials to prepare might include creating slideshows and any worksheets or additional materials, if any, which can be downloaded and printed before the event. For example, we created a few blank comics templates that participants can download and use to create their own stories here.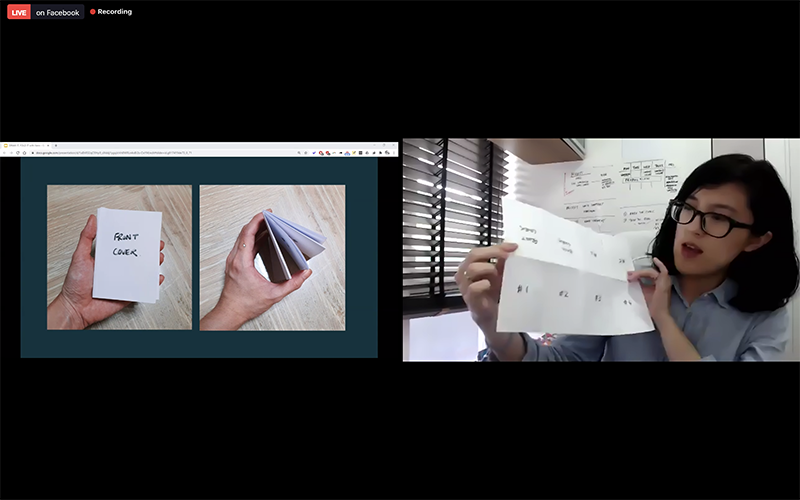 Illustrator and animator Vann Law planned a fun activity for participants to create their own zines. 
Set up the virtual space 
Before the event, we had a rehearsal session to ensure that speakers were familiar with the technology, such as sharing their slides, and playing media online. It's important to iron out any kinks prior to the event to reduce hiccups that could make the audience drop out, to reinforce a professional image, and to encourage a pleasant experience so that participants will return to your next event! The DE team also split up tasks such as moderating, troubleshooting, timekeeping, and more, that were communicated through a separate WhatsApp group chat. 
Friendly tip: Remind anyone sharing their screens to quit any chat applications that might have notifications popping up that the audience will see! 
To ensure that instructions and live demonstrations are clear, one suggestion is to use two different devices (if possible!) to present – one can be used to stream the live drawing, while the other device can be used for presenting the slides or capturing the speaker. During "Comics for Climate Change", ecologist Debby Ng and illustrator Darel Ng conducted their session by sharing slides and conducting a live demonstration with an external tablet. You can view the recording of the session here. 
It's vital to set up the physical space beforehand too, so that the speakers are in a quiet environment and can be heard! Speakers should also be mindful of what is in the background in their screen – we like to suggest a clean background, or if you are so inclined, to show off your bookshelves! Another great option is using a virtual background. However, if creatives are demonstrating anything on screen, remember that you might need to turn off the virtual background, to prevent interference, or even worse, completely obscuring their demonstrations. Illustrator and animator Vann Law did just that as she taught participants how to create and fold a zine out of a sheet of paper at her zine-making workshop here. 
Have fun and enjoy the session! 
Virtual events may be a whole different ball game from in-person events, but they offer the opportunity to interact with the audience in a different way. Free online tools such as Wheel of Names can provide some fun and the interactive tools on Zoom can provide the opportunity for more people to ask questions! 
You can also get creative with activities or games you want to introduce to your audience, such as co-drawing platforms, or cooperative sharing apps like a virtual whiteboard such as Miro.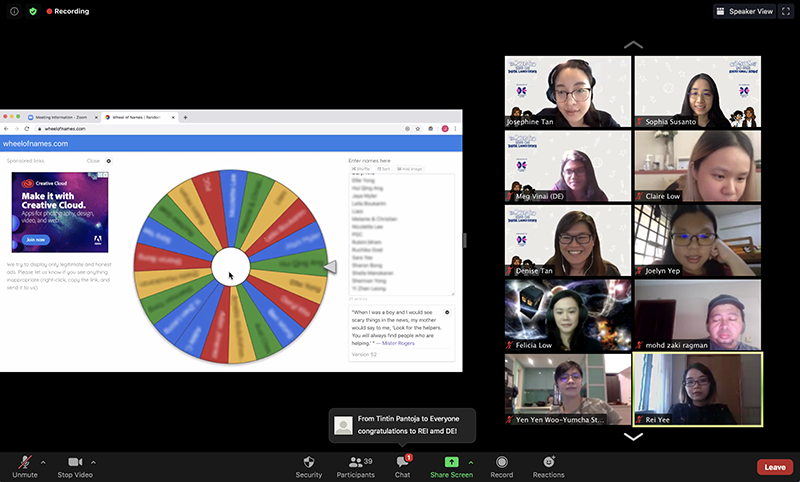 Websites like Wheel of Names can add a fun touch to your event. 
What are some ways you can think of that can excite audiences in a virtual event? We look forward to hearing your thoughts on our social media platforms! 
The Makers Club: Game On! features a group of fun and diverse characters who embark on creative journeys to experiment, code, and develop a maker mindset. 
The graphic novel is available in print and ebook formats.