Comics Illustration Workshop with Drewscape
Andrew Tan, aka Drewscape, came down to conduct a comics illustration workshop for Potato Productions' internal staff. Drewscape is a professional artist and designer who has been nominated for an Eisner for his first graphic novel collection, Monsters, Miracles and Mayonnaise. His most recent comic book is a collection of stories chronicling his memorable incidents of parenthood, titled, The Ollie Comics: Diary of a First-Time Dad. He also has an extraordinary love for fountain pens.
Many of the participants were completely new to comics illustration, and they thoroughly enjoyed themselves. So, to help all aspiring comics creators out there, we've put together a few choice tips from the workshop!
Take inspiration from your life
If you are completely new to creating comics, try drawing from your own memories – almost like a visual diary. Drewscape said that he frequently illustrates memorable incidents from his own life: "Capturing a personal memory in comic format is never wasted. Because even if no one ever reads it, it will be something valuable to you."
So when you're feeling stuck for ideas, try illustrating a hilarious conversation you had with your friend. It'll be a great piece of artwork to share, whether privately or publicly. Rehashing a funny moment is always a hoot, and you'll gain twice the laughter from one hilarious conversation.
Create a reference sheet of your character
Illustrating a character can be overwhelming because you need to draw the character from many different perspectives, and ensure that your character is still recognisable as readers proceed through the book. Keeping a reference sheet with the different angles of your characters can make life easier for you, especially when you have to draw the same character over and over again, in hundreds of panels.
First, start with the front, side, and back view of the character.
Ensure that your character has a feature that is easily recognisable. For example, does your character have a distinctively large nose? Or massive, curly hair? Outrageous, nerdy glasses? You want readers to immediately recognise the character in the panel.
After that, move on to the side and back view of your character, followed by the diagonal view.  If you're feeling up to it, you can also draw various facial expressions on the same character.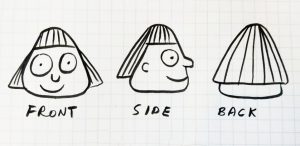 Plan the comic
Drawing the comics is arguably the sexiest part of comics creation. However, before you jump straight into drawing the comics, it's a good idea to plan out the comics first.
Create really quick, small thumbnails to help you to visualise your comics. The characters can be stickmen, and the art can be elementary. It doesn't matter if it looks like an 8-year-old's drawing (though some 8-year-olds can have impressive drawing skills), the key here is to plan out the page layout, as well as to get an idea of how the story illustrations will flow.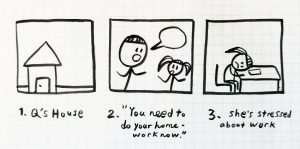 Have fun creating your own comics! Remember, simply illustrating a meaningful conversation you had can make it even more unforgettable.