Difference Engine is proud to announce the launch of Work-Life Balance: Malevolent Managers and Folkloric Freelancers – and just in time for Halloween season!
In a world where even the supernatural are faced with the super natural quandaries of ceaseless corporate commotions, Work-Life Balance: Malevolent Managers and Folkloric Freelancers expresses the familiar, yet often suppressed, sentiment of unbalanced modern-day work culture – anchored against the distinct backdrop of Southeast Asia.
Paul Levitz, DC Comics President & Publisher from 2002–2009 said, "Think you're stuck working with monsters in your office? Rée and Chee's Work-Life Balance takes a whole new look at the possibility, using an interesting text/comics balance rarely seen."
Work-Life Balance uses a harmonious merger of comics and prose to delineate the dichotomous parallels between past and present, work and leisure, and self and community beyond the constraints of a single medium.
Paolo Chikiamco, Editor of Alternative Alamat anthology and Co-Creator of Mythspace, echoed, "The power of juxtaposition is one of the strengths of graphic novels, and here comics are placed alongside prose to further provide a layered tale of identity, culture, and how we choose to define ourselves. Wayne Rée and Benjamin Chee have created a fine fantastical examination of the way communities reflect us, shape us, bring us together or tear us apart – something that isn't very pleasant even for creatures that can segment their bodies into two."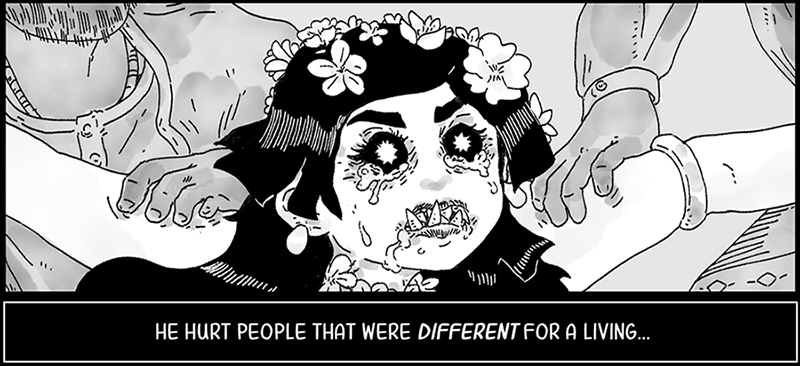 Creators Benjamin Chee and Wayne Rée examined how a confluence of their respective halves can help bring nuance, depth, and colour to the story. Wayne elaborated, "Work-Life Balance is a celebration of storytelling. It shows the unique strengths of prose and comics, but also how those mediums work towards the same goal: telling stories that resonate with an audience."
Throughout the book, Wayne's prose eases the audience into the recognisable cadence of Southeast Asian modern metropolises with all its unspoken tensions and expectations, while Benjamin's art evokes equal parts wonderment and longing by drawing from the region's history with his intricate settings and costume designs.
Meihan Boey, Author of The Formidable Miss Cassidy (Epigram Books Fiction Prize Co-Winner 2021), detailed her first impression of the book, "Wayne Ree's gleeful, irreverent storytelling, matched with Benjamin Chee's vibrant, exuberant, and undoubtedly eeee-so-cuuuute art style, come together in this funfair of a book. This is a tongue-in-cheek paean to the supernatural world of Asia and beyond, lovingly recreated in Chee's breathtakingly intricate set pieces and character designs. The story is full of fun, fast-paced action; taking a breath now and then to ponder upon all the things we (not just momoks) have to sacrifice in pursuit of making a living."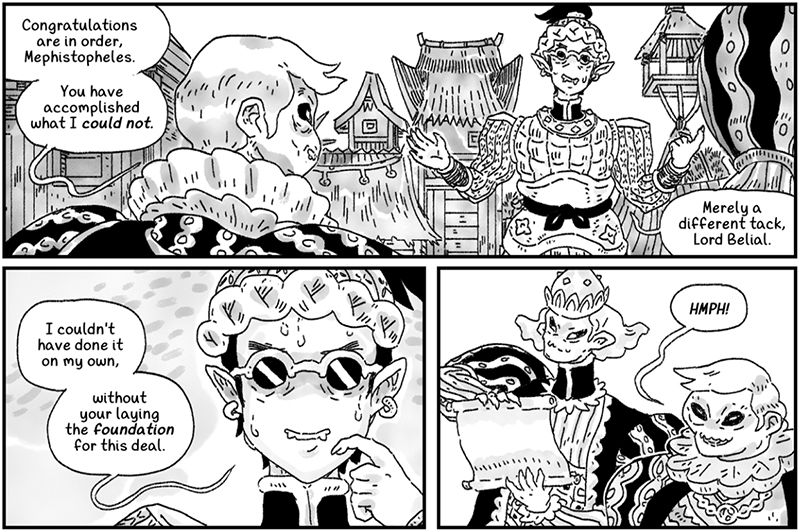 Elvin Ching, Creator of The Woodsman, voiced his appreciation for the book's direction, "Work-Life Balance weaves a stunning tale blending familiar Southeast Asian folklore with office politics and drudgery to create a fresh new world that can't help but elicit both chuckles and awe. Coupled with lush art that is at times supportive, complementary and argumentative to the story, this is a can't-miss-it for fans of alternative fantasy!"
As much as the book is about the struggles of balancing our professional lives with other aspects of our existence, Work-Life Balance also takes much care to pay homage to the mythological influences of the region beyond the superficial.
Benjamin explained, "I hope this book is a warmer, more empathic approach to 'ghost stories', where the spirits and hantu featured feel more like people than a force of nature. And like people, I would like to imagine that they have preferences to the way they are being treated by others, and would certainly dislike being exploited."
Reflecting on the conception of a book, Publisher at Difference Engine Felicia Low said, "Work-Life Balance, with its multilayered play on duality, adds to the wider conversation about the difficulties of navigating professional boundaries by providing an accessible regional perspective. By putting the spotlight on creatures that typically live in hushed whispers, Benjamin and Wayne lean into the dissonance of encouraging readers to find affinity with these beings to build a more nuanced appreciation for this aspect of our region's culture and beliefs."

Work-Life Balance: Malevolent Managers and Folkloric Freelancers is now available in bookstores in Singapore and Malaysia, or purchase the book online with local and international shipping options.
The book retails at SGD26.90 (w/o GST). The Work-Life Balance Starter Pack retails at SGD52.90 (w/o GST), with pre-orders open from 3 October to 21 October 2022.
Interested parties can purchase the book and the bundle at bit.ly/wlbcomic.
For enquiries about the book, contact: readcomics@differenceengine.sg