Dive into wonderful Southeast Asian landscapes and discover their incredible wildlife with the beautifully illustrated alphabet book Marvellous Mammals: A Wild A to Z of Southeast Asia, which launched on 15 September 2021!
The first alphabet book featuring the mammals of Southeast Asia, Marvellous Mammals is researched and written by expert wildlife ecologist Debby Ng, with art by well-known local illustrator Darel Seow. Over two years in the making, it boasts full-colour illustrated spreads of mammals native to the region that both kids and adults will love.
The hardcover book features crowd-favourites such as the Orangutan and the Pangolin, as well as lesser known animals like the Annamite Striped Rabbit, an elusive jungle rabbit that lives in the mountains of Laos and Vietnam, and the Xoong Xor, a shy mammal that has been nicknamed the "Asian Unicorn" by some scientists.
Easy-to-read descriptions and bite-sized facts accompany the illustrations so readers can learn more about these unique mammals' habitat, behaviour, and food choices, and their relationship with humans. These quirky facts are sure to delight the animal nerd in everyone!
Readers will also discover more about what makes the forests of Southeast Asia and its residents so special, and how humans can help protect the flora and fauna of the region.
Debby Ng, writer of Marvellous Mammals, shared this about her process of researching and writing the book: "While working on this book, I learned that there is still so much to be discovered about wildlife in Southeast Asia. This region is so very special, yet we do not have as many books and stories about these animals. These stories are so important to how we perceive our relationship with the natural world.
"To research this book, I consulted everything from the latest scientific papers, historical records by both colonial explorers and local explorers, local literature, and field scientists that are currently doing research in the field.
"Choosing which to feature and what interesting facts to share was very challenging. We wanted to represent as diverse a group of mammals as possible, while including some familiar mammals, and introduce some rare and strange animals like the Zaglossus." Debby is a biologist, photojournalist, and National Geographic Explorer, and is currently pursuing her PhD at the NUS Centre for Nature-based Climate Solutions.
Illustrator Darel Seow, who has worked with several museums and cultural institutions worldwide, said: "Growing up, I was obsessed with nature in any form, whether personal encounters or from documentaries and books. It's a pity that we know so little about the wonderful creatures we share this region with and I hope this book starts readers on an adventure of learning about and how to live alongside our unique Southeast Asian wildlife."
Using a geopolitical approach that aims to create awareness of what animal and wildlife habitats exist within or across national borders, Marvellous Mammals: A Wild A to Z of Southeast Asia has been praised by scientists and experts around the region. Dr. Yong Ding Li from BirdLife International, and author of The 125 Best Birdwatching Sites in Southeast Asia, remarked: "Marvellous Mammals is a beautiful compendium on Southeast Asia's remarkable animals, many endangered, little known, an perhaps never before captured in a children's book! Darel and Debby's book could not have come at a better time when more than ever before, we need to take better care of all these wonderful species and their disappearing rainforest homes here in Southeast Asia."
Difference Engine hopes that Marvellous Mammals will be able to inspire children and adults to appreciate the diverse wildlife that live in our neighbourhoods.
"Southeast Asia is home to many unique animals, and there is much we have yet to discover. We are incredibly proud to publish this tribute to the fascinating wildlife around us and to add to the small-yet-growing collection of titles focused on Southeast Asian animals," said Felicia Low-Jimenez, Publisher at Difference Engine.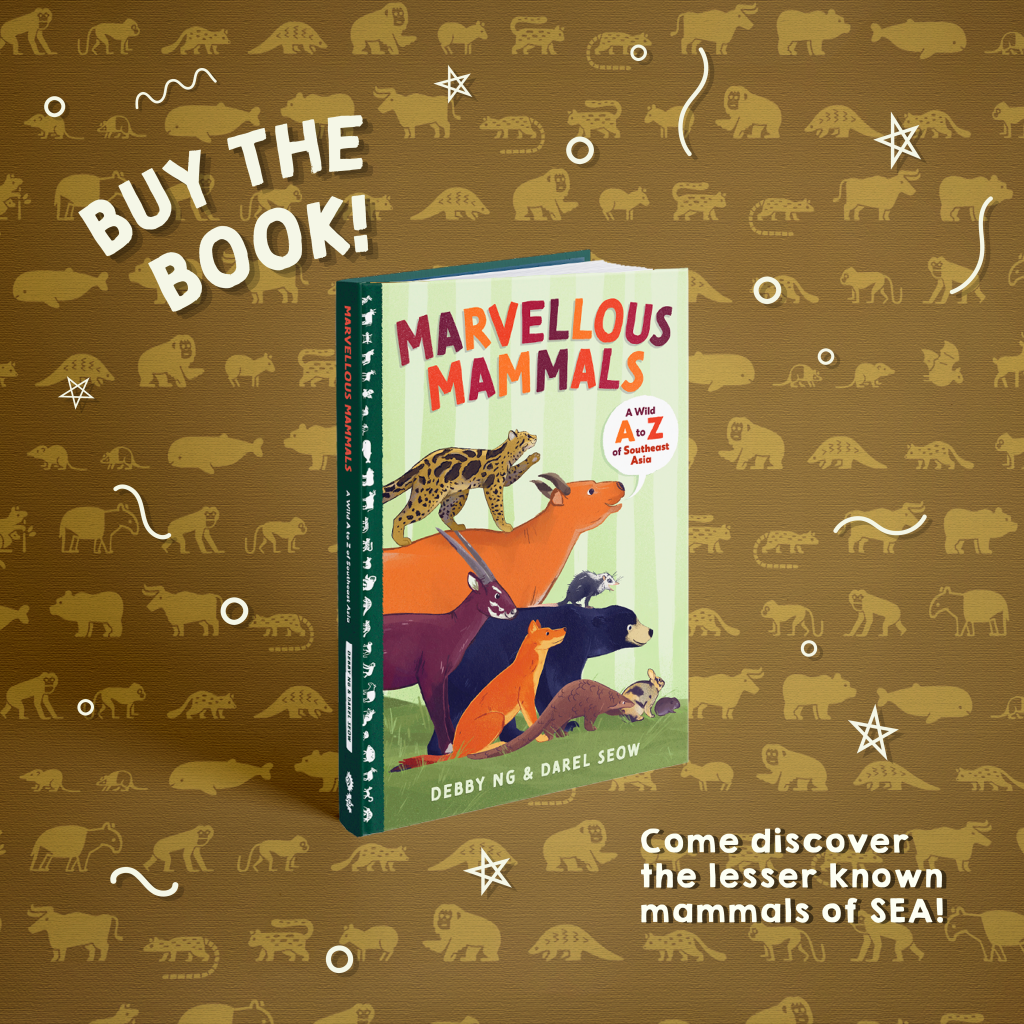 Marvellous Mammals: A Wild A to Z of Southeast Asia will be available in Singapore and Malaysia, in-stores and online, from mid-September 2021.
Purchase the print or ebook here.
For enquiries about the book, contact: readcomics@differenceengine.sg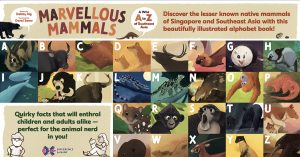 Synopsis: 
We know that dogs bark, cats meow, and cows moo. But do you know dholes whistle "whee-whee", wild boars grunt "grrt-grrt", and siamangs call out "ooh-wow-wow"?
The Southeast Asian forests are full of incredible wildlife waiting to be discovered. In the humid nature reserves of Singapore, high up the mountain forests of Papua, and in the tropical waters of the Irrawaddy, a multitude of mammals live their unseen lives. They await a bold explorer to learn their secrets. Could that explorer be you?
In this beautifully illustrated alphabet book, wildlife ecologist Debby Ng and illustrator Darel Seow part the leaves to showcase lesser-known animals of Southeast Asia! Readers will learn about these unique mammals' habitat, behaviour, food choices, and their relationship with humans.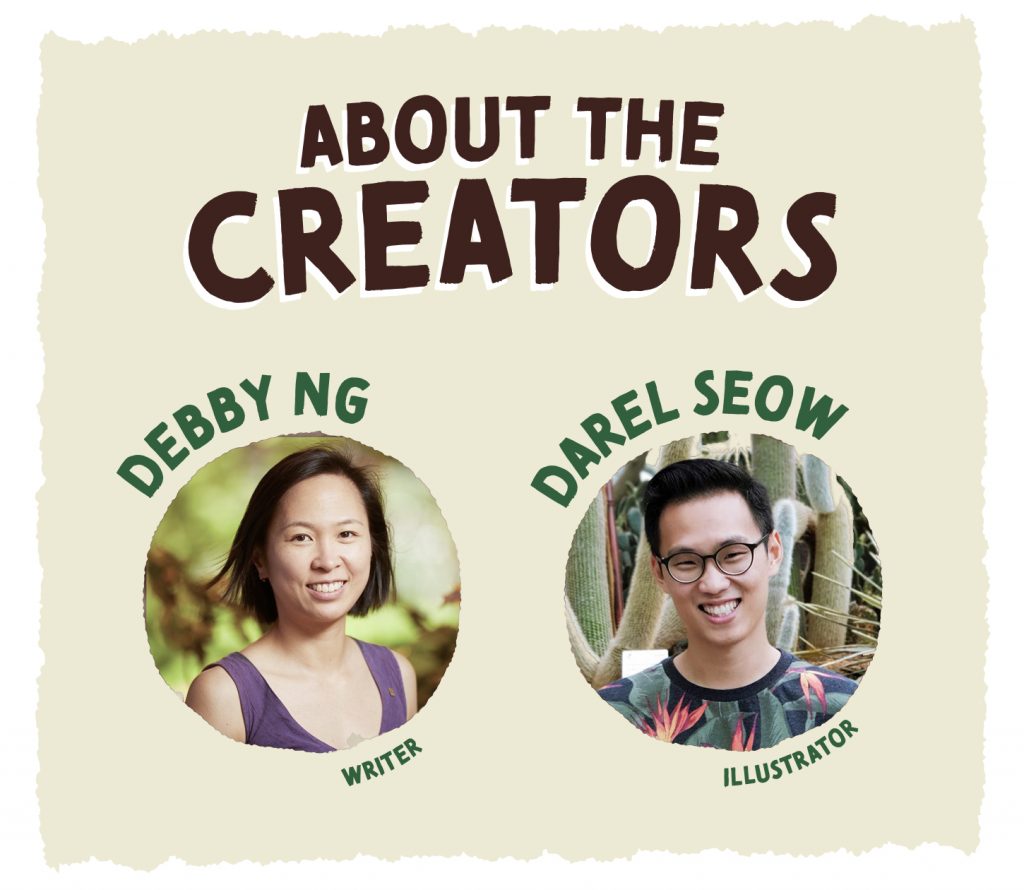 About the Creators: 
Debby Ng is a biologist, photojournalist, and National Geographic Explorer. She has begun exploring jungles since she was five years old, before she realised she was an explorer, and has been reaching out to audiences about climate change and wildlife conservation since she was 14. She is the founder of pulauhantu.sg, a marine conservation organisation based in Singapore, and co-founder of himalayanmuttproject.org, which mobilises local communities to protect wildlife health in Nepal's Annapurna Conservation Area. She is a Duke University Global Fellow in Conservation Biology and Policy, and studied geography and zoology at the University of Tasmania. She is currently pursuing her PhD at the NUS Centre for Nature-based Climate Solutions.
Darel is an illustrator and educator who loves creating stories about the marvellous flora and fauna that we share this planet with. Inspired by a childhood filled with pets of every shape and form, he has been bringing nature to life on paper ever since he could hold a pencil! An illustration graduate from Central Saint Martins in the UK, he believes that storytelling and play are the best way to connect with others. He especially enjoys working with museums and cultural institutions worldwide, and has illustrated three picture books detailing Singaporean stories. He continually endeavours to make learning a fun adventure through stories, and hopes this book invites others to share in his wonder for nature. Discover more of his work at darelseow.com!