Hello there! Today we are virtually sitting down with Reimena Yee for a chat about comics and the future of comics. Reimena used to be a science stream student, but having recently graduated from university, she is now focusing all her energies to writing, illustrating, and creating comics. Her webcomic The Carpet Merchant of Konstantiniyya is the Eisner Award 2018 nominee for Best Digital Comic. It is amazing that she actually worked on it during her university years. Without further ado, let's hear from her.
Tell us about some of your best-loved comics or books, those that have a strong influence on you.
Reimena: I tend to gravitate towards prose for narrative inspiration, and comics for technical and artistic inspiration. It's very rare when I find a comic that stands out both in a narrative and artistic standpoint (usually it's one over the other), and comics like that are the ones that I aim to create.
The Graveyard Book by Neil Gaiman is the seed from which my voice as a writer was developed. For comics, I also enjoy Beauty by Hubert and Kerascoet, Just So Happens by Fumio Obata, Hanna is Not A Boy's Name by Tess Stone, The Property by Rutu Modan, and The Arrival by Shaun Tan.

Spread from The Carpet Merchant of Konstantiniyya 
What are your favourite drawing tools?
Reimena: I mainly use Photoshop, a drawing tablet, an iPad Pro, and an Apple pencil.
Which step of the comic-making process do you enjoy the most? And which step do you find the hardest?
Reimena: I love thumbnailing (planning the layouts) and colouring. The longest steps (not necessarily hardest, but they can be) are writing and inking.
What kind of stories would you like to see from your region?
Reimena: In Malaysia and Southeast Asia, we already have so much talent. What I'd love to see are more opportunities for them to tell the kinds of stories they want to tell, and in as many genres and styles as possible. Comics are more than just the superheroes written, drawn and published by the US, or the stock humour genre in Malaysia. There should be more slice of life, sci-fi, fantasy, etc, for all audiences. Comics is a medium and I want comics to be seen as such by the public, with an industry to match.
What are some of the challenges that Southeast Asian creators face?
Reimena: The big challenge for SEA creators centres around three things: infrastructure, funding and outreach. Creators and the professionals in the industry aren't well compensated and recognised for the work they make, which is bad for morale. That's what unnamed (an online Southeast Asian comics collective I help manage) and all of its partnerships are trying to fix.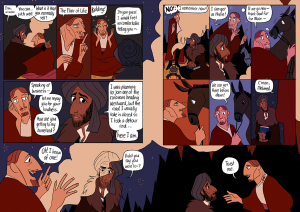 Spread from The Carpet Merchant of Konstantiniyya 
What would you say to someone who says "Comics are just for kids", or the opposite, "Comics are not good for kids"?
Reimena: Comics can be for kids, but it's not just for kids. It's just another way to tell stories, like how films and novels do. It doesn't make sense if someone points to Barney the Dinosaur and conclude that television is for kids when Game of Thrones or National Geographic exist.
The public and industry perceptions are that comics are limited in terms of target audience and genre. There are so many graphic novels out now for adults that cater to all sorts of interests and niches. Manga and European comics are especially good at this. Take a look at works like Sabrina by Nick Drnaso (the first graphic novel nominated for the Man Booker Prize), as well as Persepolis by Marjane Satrapi, Maus by Art Spiegelman or The Arrival by Shaun Tan which are taught in universities. There is a world of comics that exist outside of the American superhero genre, which not only includes Southeast Asia but also the internet.
And as for comics not being good for kids, the publishing statistics already contradict this. Kids LOVE comics. They are eating them up. The comics industry for kids is BOOMING. This means more kids going to bookstores and libraries. More kids meeting authors and artists. More kids inspired to read and to make their own stories. Why would any reasonable adult or teacher want to prevent the next generation of readers and writers/artists? Especially if comics are the ones driving more support for librarians, publishers, and booksellers. Just because reading habits have changed doesn't mean they have changed for the worse. In fact, those new trends might be the very things that revive the love of reading in children.
Thanks for sharing your thoughts with us, Reimena. To see more of her work, go to
reimenayee.com
, or find her at Twitter
@reimenayee
.