Joy Ho is an illustrator and cartoonist based in Singapore who works on freelance projects internationally. She recently graduated with a BFA in Art History and Book Arts degree from Maryland Institute College of Art (MICA) and has busied herself with drawing, designing, and doing online editorial work.
We are glad for the chance to discuss how she has grown as a creator, from a kid using pencil and MS Paint, to a professional working with a team to adapt her art to 3D space.
Photo credit: Raquel Zaldivar
What got you started illustrating or drawing comics seriously?
Joy: I never really stopped drawing since I picked up a pencil. But perhaps I only started to really pay attention to the craft when I realised how intertwined comics is with the core parts of me.
Illustration and comics to me are sources of information and empathy, and it is a resource that can be communicated to others. When I could combine my personal reasons for drawing and the professional ability to execute my visions, that's when it really started getting exciting.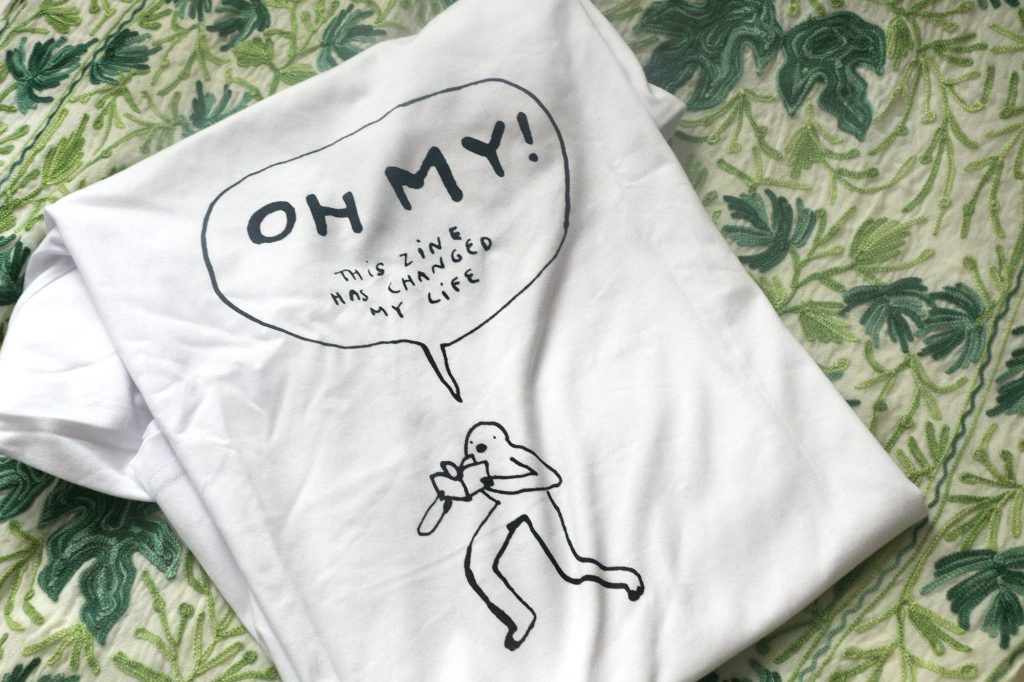 Merchandise for Singapore's first Queer Zinefest.
What are your favourite drawing tools?
Joy: I work both in ink and digital drawing, so I always have my nibs and tablet near me. I'm drawn to the ink medium, particularly for my personal work. The lines I used then were more expressive than technically clean. That tactility is what I feel gives my personal work the most strength.
As for my digital work, I was drawing in MS Paint with a mouse for the longest time! I received a tablet from my brothers for a 14th birthday gift and they prodded me to use Photoshop instead – clearly that has gone a long way.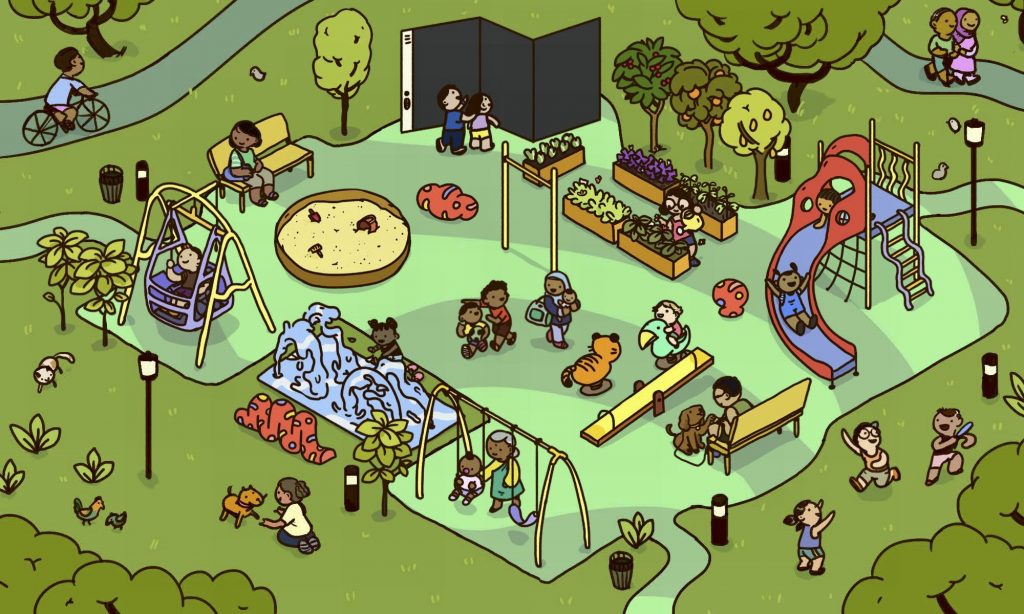 Illustrations for the interactive exhibit: The More We Get Together: Singapore Playgrounds 1930–2030. 
Many artists prefer to go for a more realistic style, why do you choose to work with a cartoony style? We think you managed to create a very adorable and distinctive look. Can you tell us a bit about how you arrived at that? 
Joy: People ask about my style a lot, as most people think I've had this forever – but I did go  through so many minor style crises and shifts in art school. That was when I really had to practice and hand in assignments daily, trying out different skills, approaches, shapes, and noting current trends or design.
I was stylistically impressionable, and deadlines forced me to make quick decisions. Often I was influenced by contemporary illustrators or peers in critique who I admired, rather than exploring who I needed to be as an illustrator on my own terms.
My teachers saw that and pushed me to find myself in the sketches they saw me do when I wasn't trying to make my drawings look like anything – and that's when it started to click.
I'd say the style of my work is often "cutesy" but scrawly, which allows me to explore the serious parts of what I hope to convey, yet in a form that is digestible. I think this is subconscious now, and I would adjust the levels of "cute" depending on the subject matter I am working on, in a manner that is tonally appropriate or deliberately ironic.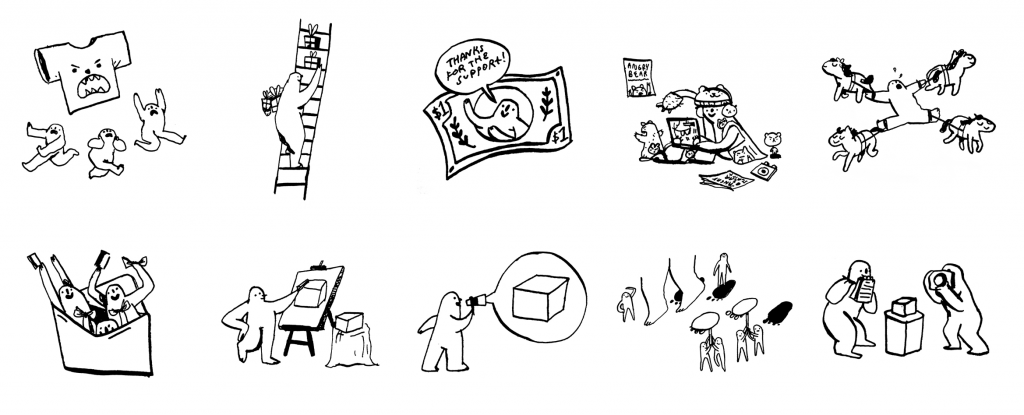 Illustrations for Six Figure Crowdfunding. 
How did you find the experience of working with clients? What was it like to have your work expanded to a spatial installation or exhibition? 
Joy: I enjoy that process tremendously – I think most creatives enjoy seeing parts of their creative identity projected to an environment. So far I've been very lucky to have opportunities to pull such things off, either by myself or with clients.
I really like collaboration, especially when someone provides me with a unique brief, a new medium, narratives I can play off on, or even a whole new skill set. I was paired with two brilliant coders who helped to bring the Singapore Playgrounds exhibit at the National Museum to fruition.
We had a constant flow of conversation with them about the parameters of the user interface and it shaped the composition of the piece itself.
Can you tell us a bit about Dogswurld?
Joy: Dogswurld is a world full of dogs that has the occasional cat. It is a concept developed from a three-page comic that I drew indiscriminately. The Dog Box comic book is an exploration of the human condition through canine eyes, investigating idealism, monotony, loneliness, and creativity.
I've had iterations of Dogswurld in the form of screen prints, letterpress prints or spot illustrations, and it's been a thematically related universe I've gotten to play with since it came into being. I also really enjoyed turning it into a site-specific installation at the entryway space at MICA for my senior thesis show.
I wound up painting dog visitors entering the gallery alongside the display of the comic. So far the works that have come out from it have been quite experimental, and I'm hoping to develop it further.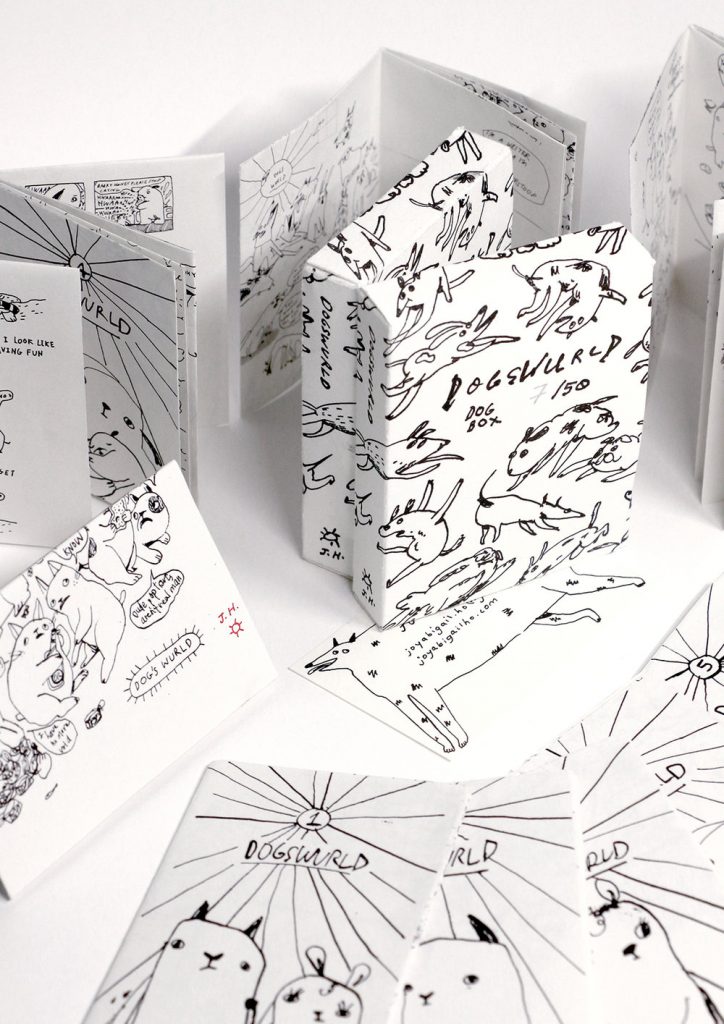 Dog Box, a comic book that investigates idealism, monotony, loneliness, and creativity through the eyes of canines.
Have fun experimenting, Joy! Explore Joy's whimsical world of illustration and comics

here

.