Illustrator and comic artist James Tan likes to observe and draw people in coffee shops. He has two graphic novels published recently: the Final Resting Place with COSH Studios and All That Remains which is part of a dementia awareness campaign run by the Lien Foundation, Alzheimer's Disease Association and Khoo Teck Puat Hospital. His work has been included in anthologies such as Urban Sketchers and Liquid City by Image Comics. Here, James kindly shares some of his thoughts on comics.
Could you tell us how you started on drawing comics?
James: Probably in my primary school when there was an endless supply of paper in the form of my textbooks. I remember the teachers scolding me for all the doodles I did in them.
What are your favourite drawing tools and subject matter?
James: My favourite drawing tools are my trusty ballpoint pen and MUJI fountain pen. Subject matter-wise, I like to draw from my personal experiences and observations – more of a slice of life comics.

Which step of the comics-making process do you enjoy the most? And which step do you find the hardest?
James: The initial process of creating the world and plotting out the story is always the most enjoyable, but it's also the hardest as I try to make the story interesting.
What sort of stories would you like to see coming from Singapore or Southeast Asia?
James: Nothing in particular because stories should be universally interesting and not geographically-based. Having said that, it's always great to have stories coming from the region as we tap into our own culture and experiences.

You have published two graphic novels recently: "Final Resting Place" about Bukit Brown Cemetery and "All That Remains" on dementia. How was the experience of creating a comics about heritage different from one about a medical condition?
James: I think what I learnt from experience is that you need to do quite a fair bit of research before creating the comics. "Final Resting Place" is fictional, even though I tried to weave in certain factual elements. But "All That Remains" is more based on my personal experiences with people I know, and at the same time, I also need to see how I can make the stories interesting for the readers.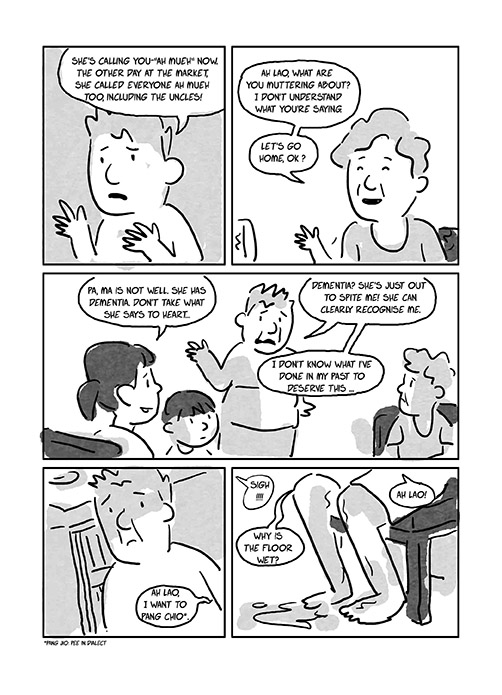 Are there any issues that you feel strongly about, that comics are well-placed to communicate?
James: Comics essentially act as a bridge between people's visual and the non-visual experience. There have been some great comics in recent years that touches anything from the environment to refugee issues, etc. Two comics I would recommend are Land of the Sons by Gipi and How the World Was by Emmanuel Guibert. They are not strictly on the two themes I mentioned although they touch on some aspects of it.
What is the one thing about being a comics writer/illustrator that you'd like more people to know?
James: I think one of the stereotypes about comics is that people think it's "easy" to do, but once you actually do it, it's very difficult; from creating a convincing story to coming out with the art style, as well as getting the comics rhythm and pacing just right.
If you could meet a writer or artist, who would it be and what would you ask them?
James: I would love to meet Gipi or Christophe Blain and ask them about their comics process and art tools. They are true artists in each of their personal approach, from the way they create unique art styles, to crafting good stories. The readers never feel that they are flipping pages of a book, but are instead always immersed in the narrative.
Thanks a lot, James! All That Remains is available to read for free online here if you want to check that out.