Foo Swee Chin, known to friends as FSc, is a Singaporean comic book artist and illustrator. She is the creator of several alternative comic books, including A Lost Stock of Children and Mince, published by Neko Press, as well as Chimney 25 and Zeet, published by Slave Labor Graphics. This week, she shares some of her illustration journey with the Difference Engine team. Read on to find out more!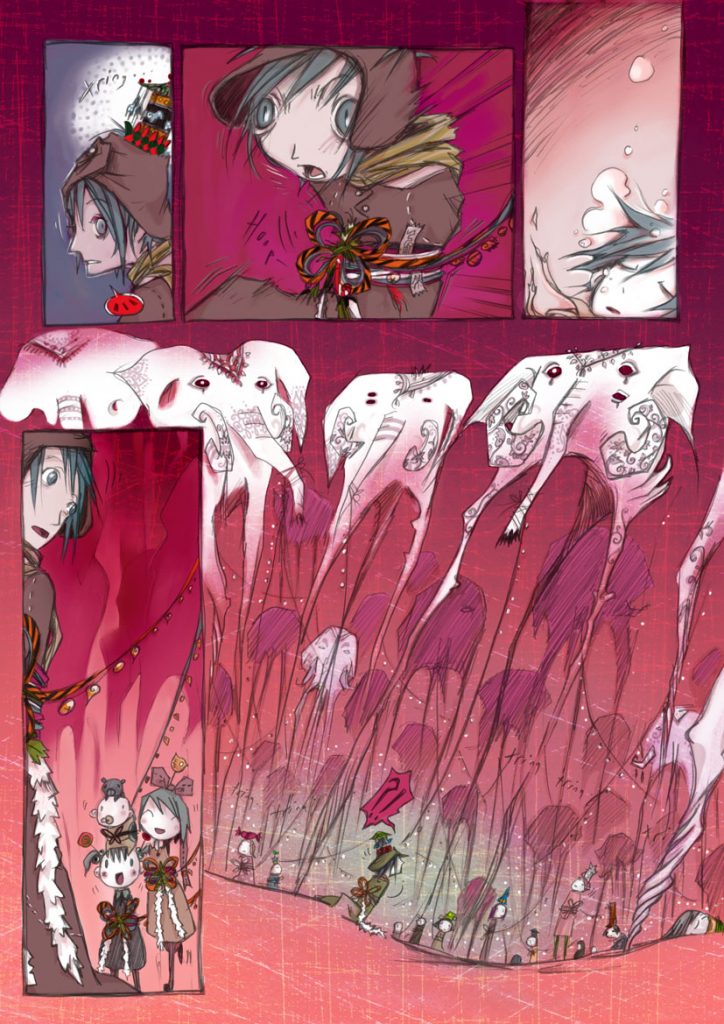 Flush, a comic about social inequality and environmental issues
How did you start doing illustrations and comics?
FSc: I've always enjoyed reading and wanted to tell my own stories, but I'm not linguistically inclined. Pictures is a more comfortable modality of conveying thoughts and ideas for me, so I have always been drawing and spent a lot of time doing that. I didn't have friends when I was young, I didn't communicate much with people and was hardly out of the house. I would also read a lot reimagine new scenarios and draw them out. Books, imagination and drawing are kind of like my friends.
How would you describe your style? Tell us about the kinds of comics you have done.
FSc: I'm not sure, I don't usually think about it. Maybe "quirky"? Some people found it cute, many have found it creepy. It depends on who you ask.
I have illustrated some comics published for the alternative market in the United States, one of which is Nightmares & Fairytales, a gothic comics series created by American writer Serena Valentino. Many of my stories have themes that deal with the emotional state of mind, life and existence. Some of them are rather dark and experimental. I also have some light comics. One of these is a blog manga that chronicles my experiences in Japan, on a Japanese blog platform.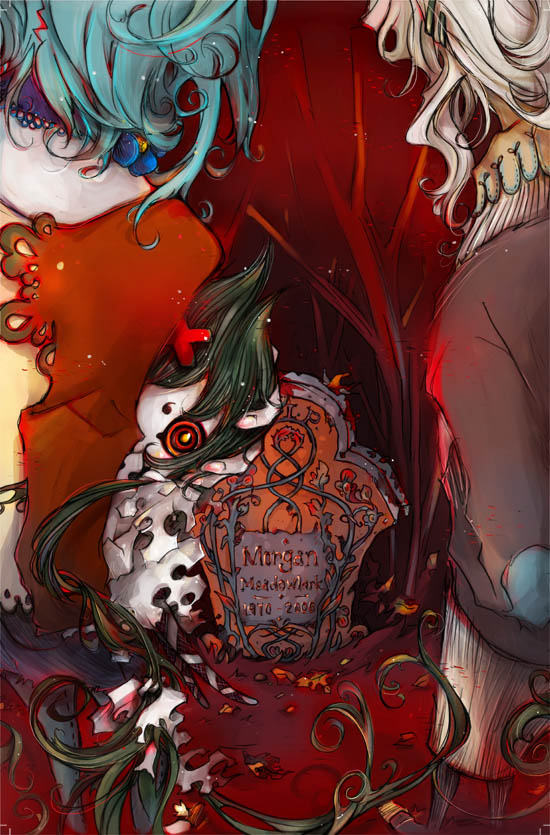 Cover art of Nightmares and Fairytales 
What are the tools that you use most often in your illustration work?
FSc: I started off as a digital artist, but my PC can't cope with the software and file size anymore so I've been using more physical mediums. Copic markers are my favourite but they are crazy expensive, so I often use watercolour and colour pencils.
What subject(s) do you like drawing the most, and why is that?
FSc: I like conceptual art and enjoy creating new characters and landscapes because it is fun and helps me to de-stress. I like to draw emotions too, usually in the form of flowy humanoid figures. It is like dancing to a piece of music but on paper.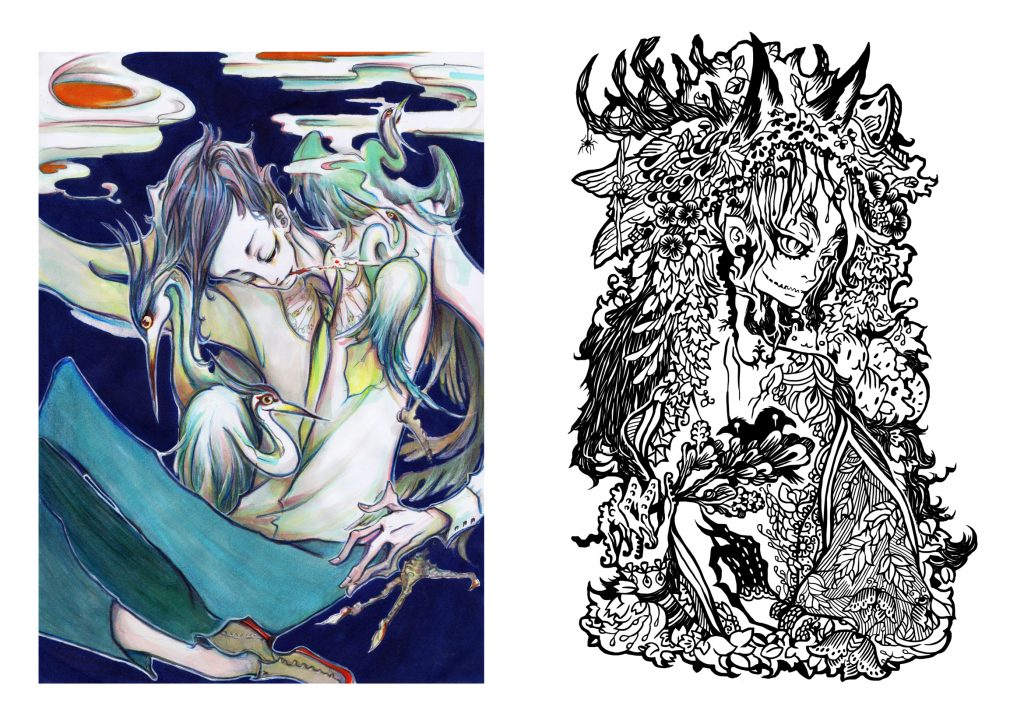 Illustration on the theme of music and emotions
How does your background/culture/experiences influence your writing and art?
FSc: My favourite author is Diana Wynne Jones. I am interested in occult and witchy stuff such as the use of herbs, Runes, Sacred Geometry (and crop circles), Yokai etc. I like Southeast Asian culture because it is so richly mixed, it is beautiful. I also find Bon Tibetan Buddhism, Shintoism and Animism fascinating. They make reality so colourful.
I love trees and animals. I feel that more often than not, humans treat them as objects rather than living breathing lifeforms. We are so detached from nature that we no longer respect those who do not speak the human language. To think that they have given us so much… it makes my heart break whenever I read articles on animal or environmental abuses and mistreatment. The sentiment probably stemmed from my unhappy childhood, which taught me to be kind to others, especially those who are misunderstood.
Being on a different frequency from the majority made my stories kind of strange and dark at times, lol. I wish I'm more talented at writing and making art so that more people will read my works, and maybe they will appreciate the lesser known and better understand the misunderstood or the stigmatised.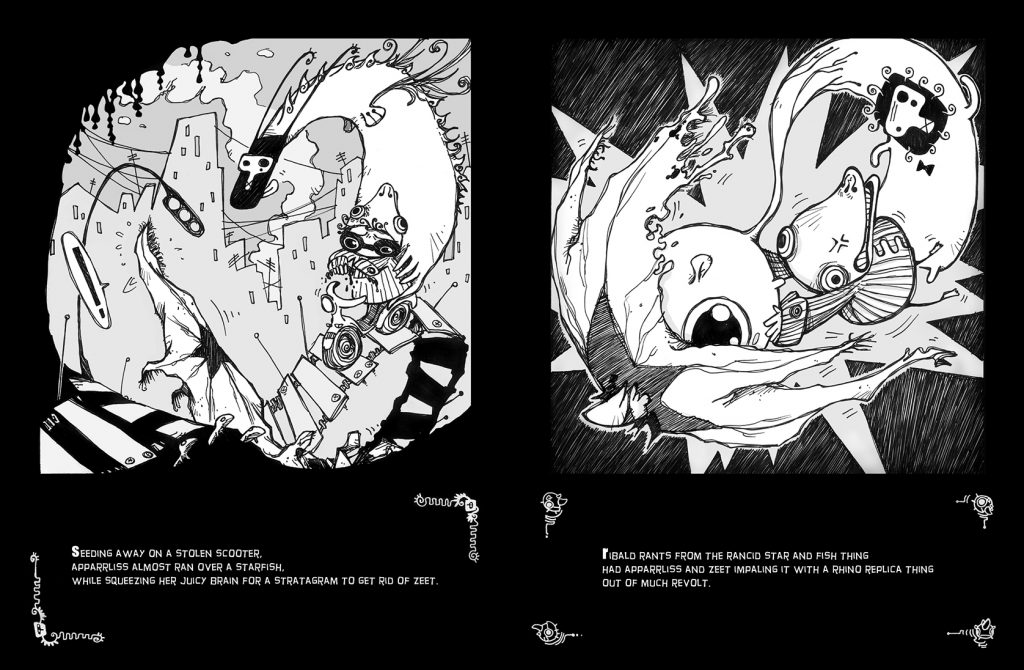 Excerpt from Zeet: A Little Book of Alphabetical Dispositions 
What sort of research do you do when you create comics?
FSc: Usually visual, historical references and facts.
What sort of stories/comics would you like to see more of in Singapore or Southeast Asia?
FSc: Something more personal to the creator.
What are some of the challenges that you faced as a Southeast Asian creator?
FSc: Personally, I've found it difficult to get clients to accept works that do not conform, but that can't be helped. I'm really bad at marketing my own works, which doesn't help. Haha!
Art and artist come in a package. Art alone is difficult to sell unless the creator can present something that resonates and appeals to the majority of the public. It is 70% hard work and 30% being at the right frequency, at the right spacetime.
Thank you for sharing, FSc. To see more of her work, click here.