Budjette Tan is a Filipino comics writer, best known for a horror/crime comics series TRESE which he co-created with illustrator Kajo Baldisimo. We were all recently very excited to hear that TRESE is now being developed into a Netflix animated series! Here, Budjette generously shares about the behind-the-scenes work that goes into creating the comics since 2005.
How did you arrive at comics writing and why do you like it?
Reading comics is a childhood love, so I started to write my own, even as a kid. I read some books about how to write screenplays, at that time that was the closest thing that resembled comic book scripts. I was lucky enough to have a group of friends in school and college who also share the same love. When I was graduating, I convinced my friend to make comic books with me and asked my parents to let me go to attend the San Diego Comic-Con in 1994. I thought, "I'm going to bring a comic to pitch. This is going to be my big break." We printed 1000 copies, brought them to San Diego, gave them away to editors. Yeah, none of them called back, haha. But there is something about the mix of art and copy – visuals and words – that makes it more appealing to me than making a movie or writing prose. It's a different kind of magic to be able to tell a story through the comic book medium.
Which comics writers do you admire the most and why?
The biggest influence has been from Neil Gaiman, Warren Ellis, Alan Moore, Grant Morrison. I like the format that Warren Ellis created for Planetary and Global Frequency, a series of standalones that builds up to a bigger storyline. I love Neil Gaiman's American Gods, in which he posed the questions, "Where did all the old gods go? What happened when people stop worshipping them?" I took the same questions and overlaid them in the Philippine context when the cities started to rise. What happens when tikbala, the demon horses, don't hang out in the rural provinces anymore and have to challenge people on highways to do drag race. What happens to the manananggal who normally attack pregnant women who live in huts, but these days pregnant women live in condos so how do they hunt for food now? I keep those in mind as I write each new TRESE story.
Which came first for TRESE: the character ideas or the desire to write horror comics?
The desire to write horror comics, heavily influenced by what Neil Gaiman did with Sandman. My aunt gave me the comic Hellblazer: Hold Me by Neil Gaiman and Dave McKean about a vampire-like creature who had a very sad ending. I liked that depiction of monster or supernatural entity that it isn't purely evil and just turns out to be just a tragic creature. I like Stephen King's short stories, where ordinary people get dragged into supernatural circumstance and I've tried to write stories like that as well. And I really like the TV show CSI, especially its one-shot episodic format; its main selling point is using science to frame the whodunit into a howdunit.
When in 2005, Kajo Baldisimo – my co-creator and artist in TRESE – challenged me to write a monthly comic book series, I went back to the stories I never got to finish. I needed a character to investigate these supernatural situations and instead of using science, I thought our detective would use magic. The character Trese herself started out as a man named Anton Trese. Here I was heavily influenced by my love for Batman, John Constantine, Gill Grisham, Fox Mulder, Carl Kolchak from the little known TV show The Night Stalker. I created this tough guy fighting supernatural elements in the city. Yet, I thought, it just feels like it's been done so many times. What have we not seen? We haven't seen a strong female character do all of these tough guy stuff. Looking back I was also influenced by Warren Ellis' stories where there was always a tough female lead, like Jenny Sparks in Authority, Miranda Zero in Global Frequency, and Jakita Wagner in Planetary. So I flipped the situation around and I told Kajo about it and he loved the idea even more. So we have Alexandra Trese as the main character and we have all those stories tossed into the mix to create her world.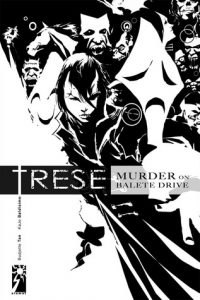 What sort of research did you need to do to write the story?
The first two books containing eight cases of TRESE was the culmination of 20-30 years of just living in Metro Manila; since I was a young boy I have been reading about urban legends and Filipino folklore, and heard stories from family and friends. The book that heavily influenced TRESE is The Soul Book by Gilda Cordero-Fernando in which she compiles the stories of other anthropologists' research on folk beliefs, categorised based on environment that the creatures that live in: the sky, the earth, and underneath the earth (or the afterlife). As a kid when I was bored, because there was no cable TV and internet, I hung out in the little library we had at home and I read this book over and over again. It stayed at the back of my mind and came bursting out, wanting to be told in this new format.
Of course, eventually, I came to a point when I needed new materials. For example, in one of my stories I knew I needed a fire elemental, a creature that somehow manipulated fire. I wrote the script without knowing what it was, only later did I look through books for a creature in Philippine mythology that fits. It turned out there is one called oriol, a snake demon who lives in water but actually breathes fire, and I thought "Perfect!" So it is both relying on back knowledge and doing research on the go to fit into the story.
How did you begin collaborating with Kajo Baldisimo and what is the work process like between you two?
I met Kajo back in 1995 or 1996. He was working on a graphic and web design company, and I was a freelance writer. Every now and again when I get assignments that needed a comic book done, Kajo and I would collaborate. In 2005, we were working at two sister ad agencies, the work hours were 9 to 5, meaning you come in at 9 in the morning, you leave at 5 in the morning the next day. It's that kind of crazy demanding work. One day, Kajo said, "I want to make a monthly comic book." I said, "That's impossible, we don't have work-life balance." And he said, "No no no, I promise you. You give me a 20-page script and I will get it out in 20 days." I didn't think he could finish it, but he did. Then he said, "Give me the next script," and true enough he finished that one too, and that kept happening for the next few months. In 2007, we pitched eight stories to the publisher Visprint, they liked it, they got us and we have been with Visprint ever since, working together on TRESE for the past 13 years.
What is the process like? I write the script and he draws it. That's generally how it is. When I get the pages from him, I would rewrite stuff based on the artwork. I would take out words if the art already says a lot, or add on words. Occasionally Kajo would make a suggestion, like in the first issue when the Kambal (Trese's twin sidekicks) come in with guns blazing, firing at the monsters, I had captions describing their origin story in one whole page. My thought back then was that I wanted readers to have all the information they need in one comic. As the great Warren Ellis once said, we have to make comics a cultural grenade, an explosion of a great story that quickly immerses the reader in that world, a self-contained tale that would make sense even if you never get to read the other issues. But Kajo thought that the Kambal's origin story is so cool that we needed to do a whole issue on it. We eventually got to tell that tale in TRESE Book 3. At first I tried to tell it in a 20-page format, but the story just wanted more pages and it kept going until it became a hundred pages long and ended up being one of the readers' favourite stories. So that little editing by Kajo paid off later on. That's how we collaborate. Sometimes he would say, "Wouldn't it be great if this happens," and I would take note of that and put it in the next story.
What were some of the conversations that you and Kajo had about the art? Say about making it black and white, or about character design?
The decision to make it black and white is more for economics than anything, colour was really not an option for self-published comics. We have done other comics before and rarely broke even, so we did this just for fun and made it really, really cheap. We just photocopied 30-50 copies at the local office supply store – ashcan-sized, folded in half and stapled – then dropped it at Comic Quest, a friend's comic store. Funnily enough a week later, it was sold out! So we photocopied another round and kept resupplying stock at the store on a regular basis.
On character design, it was Kajo's idea to give Trese that hairline, similar to his own. He calls it devil's hairline because it looks like horns. I don't think I ever had a full description of Trese, only this is what she wore and this is how she talks, everything else is Kajo and it came out great. The collar of Trese's coat is based on the coat of Jose Rizal, the Philippines' national hero, who wore it  in a famous portrait. I also mentioned that she wears a Chinese-inspired dress and Kajo put four buttons on her coat. He always brings in his advertising training; when designing a logo, product or character, it needs to have a memorable silhouette. Just like the bat symbol or an S on the chest, the moment you see a girl with four buttons on her coat, people already know it is Trese.
Can you tell us anything about the upcoming TRESE animation with Netflix Originals?
We can't talk about any details right now but we'd like to say thanks to the great people at Base Entertainment, producers Tanya Yuson and Shanty Harmayn. Since 2012 and 2013, they have literally travelled around the world to pitch Trese as adaptations into a live action movie or TV show. There were interested parties but the right ingredients were not in place. When Netflix Animation started asking for pitches, we brushed the dust off the TRESE pitch and sent it to them. I'm excited that Jay Oliva, the great superhero film director will be working on this! Of course, Kajo and I will be in dialogue with the team through-out the creation of the animation series.
Are there any stereotypes surrounding comics from the Philippines that you wish to dispel?
People are very surprised there are comics from the Philippines, even within the Philippines itself. Thankfully with Netflix announcement, there are now new people into this. Comics have made a comeback from the golden age of Filipino comics of the 1950s to 70s. In the 1990s, when the two biggest comics publishers shut down, people said it was the death of Philippine comics. More applause to self-publishers who kept pushing, to comic book stores which continued to give shelf space, and for Komikon, AsiaPOP Con, Manila Con that kept the scene going. Now there are more comics available for Filipinos – of course, it's best when it makes the leap overseas.
Thank you for talking to us, Budjette. If you'd like to read a sample of two TRESE stories, click here. You can also order the comics from Visprint here.