Difference Engine is honoured to have had the opportunity to work with writer Vinita Ramani to tell the story of her son Mithra and her experience with pregnancy loss. Their story is illustrated by Griselda Gabriele in Bearing Witness, and is published under our DE Shorts imprint.
Almost one quarter of all pregnancies are estimated to end in pregnancy loss, either a miscarriage or in stillbirth. Despite that, those who fall into this quartile rarely find themselves part of the conversation about pregnancy and childbirth.
Bearing Witness, with its unfiltered and sincere retelling of writer Vinita Ramani's and her family's experience with the loss of her second child, Mithra, offers parents affected by pregnancy loss a shared space to have their experiences recognised. More importantly, it creates a conduit through which families who have experienced such loss are able to share and amplify their voices and grief.
Shailey Hingorani, the Head of Advocacy, Research, and Communications at AWARE, the Association of Women for Action and Research, commented on the direction of Bearing Witness, "Through immensely affecting visuals and writing that is precise yet visceral, author Vinita Ramani and illustrator Griselda Gabriele have created a work that delves deep into a topic that many find too harrowing to even mention. They capture how overwhelming it can be to undergo the physical and mental toll of experiences like postpartum depression and pregnancy loss, without passing judgement on any choices made. There is a deep sadness here, but there are also moments of acceptance, support and even joy. This comic is vital for any number of readers — whether you relate to the author's experience intimately or have little knowledge on pregnancy loss."

By choosing to set the story in Vinita's lived moments, Bearing Witness makes the heavy nature of pregnancy loss accessible to all through the proxies of her thoughts and emotions; family and faith. Moments of her loneliness are always surrounded by the presence of her family and friends, especially her husband Mahdev and daughter Sahana. Her family acts as guides not just to Vinita, but also for the readers – lifting from the weight of Vinita's grief to the memory of familial comfort of the readers' present.
Vinita explained why Bearing Witness is an important narrative to share not just with mothers, but to the wider audience, "This is a story about what it is to be a mother, to both the children we have and the ones we have lost. And it is not just a story for women: fathers will relate to the husband portrayed in this comic. A vital narrative that should be widely read, talked about, and made more visible."
Departing from the traditional route of broaching the topic of pregnancy loss through the lens of medical facts and statistics, Bearing Witness is unapologetic in featuring the emotional nuances of Vinita's pregnancy loss and artefacts of her spirituality against the backdrop of Southeast Asia, and invites the audience to experience every raw ebb and flow of Vinita's emotional state.
Illustrator of Bearing Witness, Griselda Gabriele elaborated, "Vinita's story and ways of coping with grief are very closely linked to spirituality in her daily life. In fact, this spirituality was also what allowed Vinita to see her miscarriage not only as a loss, but also a way for her to return Mithra to the universe. Most comics on miscarriage I've seen focus on the medical aspects and come from Western countries, which rarely depict this kind of spirituality (and positively, even more rarely). Meanwhile, it's a norm in many parts of Asia!"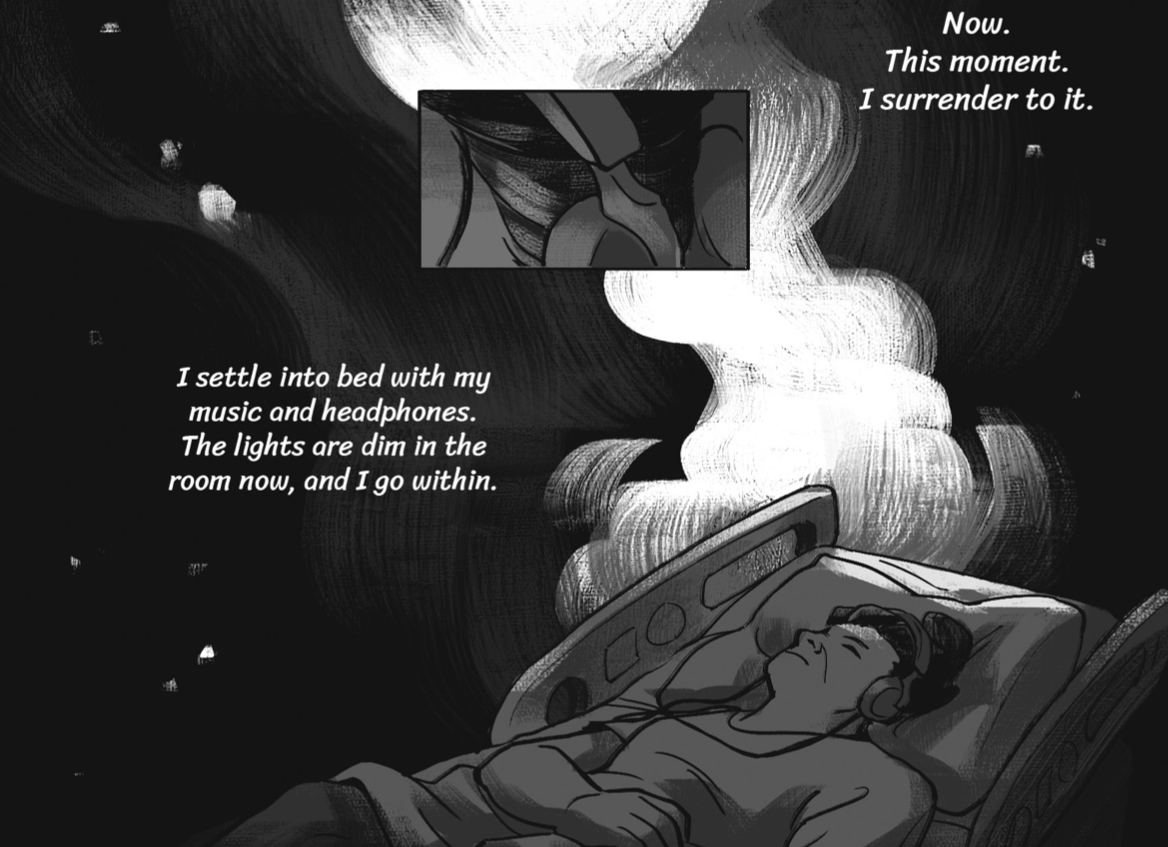 Jason Erik Lundberg, author of A Fickle and Restless Weapon, shared his experience after bearing witness to Mithra's story, "The loss of one's child is tragic under any circumstances, but especially so before it has had the chance to be born. Vinita Ramani's devastating account of pregnancy loss, sensitively illustrated by Griselda Gabriele, is unflinchingly honest and allows us to bear witness ourselves to such a painful event without judgement. Your heart can't help but break in sympathy, then find a measure of peace that comes with acceptance. An urgent and necessary work of sequential art."
The story of Bearing Witness holds within itself the unique trauma Vinita experienced with the loss of her son Mithra. Yet that pain is simultaneously universal to all other parents who have gone through their own pregnancy loss or infant death. This graphic novel is not meant to be definitive; instead, Vinita and Griselda hope that it would be a safe space for families to share their own stories and experiences with pregnancy loss – be it the grief of losing a child, or the joy of having been able to momentarily be a home for one.
Natalie Tan, a pregnancy loss awareness advocate, expressed her appreciation for the book, "Raw, honest and poignant. Bearing Witness enables readers to live through the highs and lows of a surprise pregnancy, and feel the depths of Vinita's heartbreak when it ends abruptly. Where there is loss, there is almost certainly grief and pain. Yet, there is also beauty, strength and hope that emerges through the darkness; through the never ending love of a parent." As a mother of four including a set of angel triplets she had miscarried, she echoed the sentiment of finding support with others who had experienced the same loss, "This book opens our eyes to the experience of a miscarriage – a topic few have the courage to share so openly about. Bearing Witness is not simply about sharing the trauma of pregnancy loss, it is also a great reminder to all women who have miscarried that we are not alone."
When asked why she wanted to publish Bearing Witness, Publisher Felicia Low said, "Difference Engine's imprint, DE Shorts, is about opening up conversations about topics that are difficult to talk about, and in turn encouraging discussion and the fostering of community bonds for individuals who find themselves isolated. Pregnancy loss continues to be a topic that eludes polite dinner table conversation despite being more common than one might imagine. We hope that Vinita's story can serve as a starting point to ignite more sharing and further discussion about pregnancy loss and infant death in Southeast Asia, away from stigma and shame."

Bearing Witness is now available in bookstores in Singapore, or purchase the book online with local and international shipping options. The book retails at SGD17.00 (w/o GST).
Interested parties can purchase the book and the bundle at bit.ly/bearingwitnesscomic.
For enquiries about the book, contact: readcomics@differenceengine.sg